WITCH will celebrate their 40th Anniversary on
June 10, 2023 at Stages in Santa Ana. Doors at 6pm.
BOUND FOR HELL ON THE SUNSET STRIP
A Compilation of early 1980s L.A. Heavy Metal
Featuring 1-Song from WITCH and Punky Peru on the cover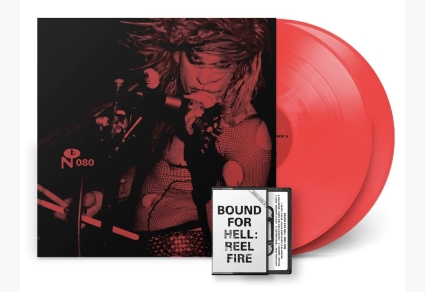 Available at numerogroup.com, Discogs, or your local record store

OC Weekly
has named WITCH one of the Top Ten
"Greatest Orange County Heavy Metal Bands Of All Time"!


WELCOME
Hello!
Welcome to WITCHTHEBAND.COM, the only web site dedicated to the infamous 1980's Southern California Heavy Metal band WITCH. If you're looking for J Mascis and his newer band also called Witch, this ain't it.
This site details WITCH's concert history, from their first show in June of 1983, to their final performance in November, 1991 and beyond. It will also give you some history of the band's inception, some touching and funny stories (including some stories about touching), tales of triumph and woe, and better insight into a band you've probably never heard of. As a fan, photographer, roadie, and friend of the band's from 1984 to the bitter end, much of the information here is taken from my extensive gig notes, newspapers, magazines and fanzines, flyers and handbills, and, more importantly, my memory (which is pretty good because I stayed away--for the most part--from the memory-reducing indulgences of drugs and alcohol). Plus, I've recently been in touch with a couple of the band members themselves and they have been extremely helpful with providing much-needed information.

It's safe to say that WITCH were my favorite band in the 1980s, and this is my way of paying tribute to the band that I loved. From the moment I saw their picture in BAM Magazine I knew they were the band for me, and seeing them live only solidified that feeling. As a fan I began to photograph their shows, then I would go to the next show and give them the pictures. Pretty soon they were putting me on the guest list, and soon after that we were hanging out. As the years rolled on I did everything I could to help the band who were now my friends, but the main reason I was there was because they were such a great live band.

And because they were such a great live band, I feel it's important to chronicle, as best I can, their gig history. I love gig histories. I'm fascinated by 'em. I have purchased gig history books about Elvis Presley, Led Zeppelin, KISS, Ramones, The Who, The Beatles, and others. You might be saying: "Well, I've heard of all those bands, but I've never heard of WITCH. So why should I care about the shows they played?" The answer is you probably won't care at all. Unless, of course, you're interested in Heavy Metal music from the 1980's and, to be more specific, about the Metal scene in Southern California at that time.
It really was a lot of fun.
And WITCH was, for a time, a very big player in that scene. They hung out with Motley Crue, opened for WASP, let an unknown Guns n Roses close a show for them, spent "quality time" with the likes of Lita Ford and porn stars and famous D.Js, set the Stardust Ballroom on fire, set crosses on fire, set themselves on fire, lived in their cars, got into fist fights on stage, broke up on stage, tattooed their genitalia, beat soundmen with microphone stands, and generally caused havoc wherever they played. Not bad for four guys from Orange County. So some of you may find this information useful and a little entertaining, while others may find it a colossal waste of time. Either way, it didn't cost ya nothin'.
I am always updating this site, and I welcome any information you may have about WITCH. Maybe your band played with WITCH and you have a story to tell, maybe you have a print ad for a WITCH show that does not appear on this list, or maybe.....who knows? You can always leave this information in the guest book.

All photographs on this site were taken by me unless noted otherwise.

Click on any song title in yellow to listen to it!

Now, let's boogie. (please click on "In the beginning..." at top)