1983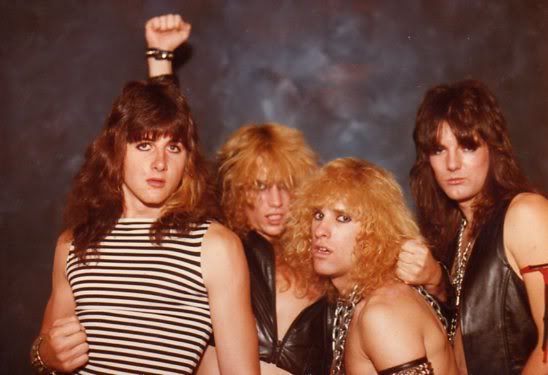 June 11, 1983
Anaheim, California
The Woodstock
Opening Acts: Savage Grace, Closing Speed, Scorcher

WITCH's very first show and it was a sell-out. Punky and Peter had played The Woodstock so many times with their previous bands that, together, they were able to make this debut WITCH performance a headlining show and draw a huge crowd. The Woodstock was a club located at the corner of Knott and Ball Avenue, in the same strip mall as another club, Radio City. For the next few months, both clubs were open simultaneously. Future WITCH stage manager Marty "Moose" Finkelstein was the stage lighting technician for The Woodstock at this time. A set list for a WITCH show does not exist until August 12, but Punky has confirmed that it would've been something like: "Pricking Of My Thumbs" intro tape, Nervous Wreck, Sex-Crazed Woman, Damnation, Jailbait, (No More) Suffering In Silence, Spinning, Gonna Rock, Bewitched, Toys In the Attic, Cinderella (In Black Leather). At right is WITCH in June, 1983: Michael Williams, Peter Wabitt, Punky Peru, Ronny Too (courtesy Punky Peru).


June 24, 1983
Hollywood, California
The Troubadour
Headline Act: WASP
Opening Act: Sceptre
SET LIST (partial):
Damnation
Bewitched
Jailbait
Gonna Rock
Toys In the Attic

The first of 20 shows for WITCH at this legendary club on Santa Monica Boulevard.
WITCH arrived at this show in a limo rented by their manager, Neil. He believed if the band appeared to be rock stars, they would become rock stars.
This show was the second night of a three night run for WASP at
The Troubadour, and was advertised as an official Red Cross Blood Drive. The poster for the three shows, including this show with WITCH, appears on the cover of WASP's album

Live...In the Raw

.
A blood drive
was fitting for WITCH, because in these days Punky was donating at every show (photo at left shows a blood-drenched Punky at the Troubadour. courtesy Punky Peru). At any given time during the set he would use the spikes on his costume to gouge at his face and chest. By the middle of the show he was a bloody mess. Blackie Lawless was drinking fake blood from a fake skull while Punky was drinking his own blood for real. The leather outfit Punky is wearing was given to him by Don Costa. WASP founder Blackie Lawless told Punky specifically that WITCH were not allowed to use smoke, pyro, or special effects of any kind at this show, but of course they did anyway. Punky also used the large, metal WASP sign hanging behind the drum riser as a jungle-gym, climbing and swinging from it throughout WITCH's set. WITCH and WASP never played together again. A review of the Blood Drive show from a local L.A. magazine has recently surfaced, and that is where the partial set list comes from. This is also the only verified performance of the WITCH original "Jailbait." The only lost song in the WITCH catalog, no lyrics, music, or recording exists. It's likely the song was performed at the first three or four shows, but by August 12 it was dropped and forgotten forever.

July 14, 1983
Reseda, California
The Country Club
Headline Act: Loudness
Opening Act: Steeler

Just three shows in and WITCH was already causing trouble. The Country Club, like most bars, did not allow bands to bring in their own alcohol. After sound check, however, Michael Williams threw a rope out of the second-story dressing room window and his friend tied 12-packs of beer to it. As Michael was pulling the beer up into the dressing room he was caught by the club's manager. The manager was so furious that he threatened to kick the band out of the Country Club then and there. Instead, he let the band play, but he told them he would never book them at the Country Club again. Luckily he didn't stick to his word, but this was the beginning of the end for Williams in WITCH. By all accounts this was an absolutely enormous show for all bands, with nearly all of the Southern California metal elite turning out for the L.A. debut of Japan's LOUDNESS. Punky recalls that WITCH and LOUDNESS did a backstage photo shoot together prior to LOUDNESS taking the stage, but these photos have never surfaced.

July 16, 1983
Anaheim, California
The Woodstock
Opening Acts: Devastation, Rox, Reckless
The song "Take You By Force" was added to the set around this time.

July 24, 1983
Hollywood, California
The Troubadour
Headline Act: Centaur

Around this time the band entered the recording studio for the first time. The session at Sunset Sound in Hollywood was lined-up by--and possibly paid for by--Azra Records founder Dave Richards. They recorded "Nervous Wreck," "Damnation," "Cinderella (In Black Leather)", and "Bewitched." Metal Blade Records' Bill Metoyer engineered the sessions.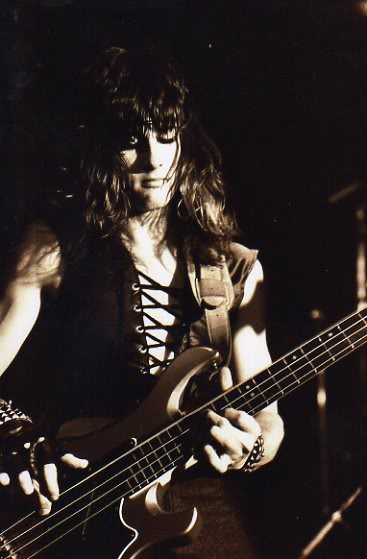 August 12, 1983
Anaheim, California
The Woodstock
Opening Act: Slayer
Archived: Video
SET LIST:
"Pricking of my thumbs" intro tape
Nervous Wreck
Sex-Crazed Woman
Damnation
Take You By Force
(No More) Suffering In Silence
Spinning
Gonna Rock
Bewitched
Mob Rules (Black Sabbath cover)
Cinderella (In Black Leather)


Michael Williams
(at right; photo courtesy Punky Peru)
was fired by Punky immediately following this gig simply because Punky could no longer stand him. Tensions between Williams and the rest of the band had been high all summer, and following a fight between Michael, his girlfriend, and Punky earlier in the day, the decision was made to let him go. WITCH's performance was recorded by the club's in-house video system, and remains
the only known recording with Williams. It's interesting to note that the intro tape--a passage from Shakespeare's
Macbeth
--was spoken by Peter at this show just before the curtain went up. At subsequent concerts the same passage was pre-recorded by person's unknown. Opening band SLAYER were not yet the kings of speed metal; at this point in their career they were still wearing makeup, leather, and spikes, and didn't look much different from WITCH, WASP, SIN, or other metal bands on the scene at the time. Within a year, however, they would come to define and inspire a new movement in heavy metal that remains strong to this day.
Following his departure no one in WITCH ever saw or heard from Williams again, nor did he ever again see the band perform. However, he very nearly became the most famous member of WITCH. At the July 14 LOUDNESS show, an agent from THE SCORPIONS management company was in attendance. He was scouting local bands and their bass players because it seemed imminent that SCORPIONS bassist Francis Bucholz was leaving the group. The agent approached Williams and he was told to learn the entire

BLACKOUT

album and be ready to tour at a moment's notice. A few meetings and phone calls later negotiations were complete and it seemed Williams was in. In the end, however, Bucholz's issues were resolved and he continued with the band. Williams ended up signing with Winner's Circle Management and played and recorded for numerous bands in the Southern California area, but he never again crossed paths with WITCH.
Having auditioned for the band earlier in the year and turned them down, Jim Warmon was again offered the bass player position following
Michael Williams' ousting. Jim was still a member of JEKYL & HYDE at the time, and by day he was working at a Photo Mat. On August 13 Punky drove up to the Photo Mat kiosk's window and made Jim the offer. After seeing the band perform at The Woodstock Jim had regretted not joining the band back in June, so this time he did not hesitate to accept. However, Jim still went to JEKYL & HYDE's rehearsal the next day. They rehearsed in the front room of The Woodstock Rehearsal Studio while WITCH rehearsed in the rear. When Jim saw Punky and Peter walk through the front door of the studio, he simply unplugged his gear right in the middle of a song, rolled it out the front door and around to the back into WITCH's studio. The "classic" WITCH lineup was now complete: Punky Peru, Peter Wabitt, Ronny Too, and Jim Warmon. At left is Jim shortly after joining the band.
(photo courtesy Punky Peru)
August 26, 1983
Hollywood, California
The Troubadour
Headline Act: Hellion
Opening Act: Abattoir
Jim's first show as a member of WITCH, and the band rented a hotel room on Sunset Boulevard to prepare. Jim had two girlfriends at the time, neither one knowing about the other. In the late afternoon, Jim had the first girlfriend load-in his bass gear at the Troubadour while he spent time with the second girlfriend at the hotel. Pissed off and suspicious, the first girlfriend returned to the hotel and broke the window to Jim's room trying to get in. Neighbors called the police and everyone in WITCH's rooms were evicted. Punky knew Jim was the perfect addition to the band. Around this same time WITCH and their manager Neal made an amicable split.

September 17, 1983
Anaheim, California
The Woodstock
Opening Acts: Unorthodox, Hanz Krypt
An ad appeared in BAM Magazine #164 announcing this gig. However, the below show on September 23 has been confirmed by two different sources, and it's unlikely WITCH would've played the same club within a six day period. It would be reasonable to assume that WITCH did not appear on September 17 simply because they were not ready to play following the addition of Warmon, and instead played the following week. Update: Based on conversations with the band it seems that this September 17 show did indeed include WITCH. We've also recently heard from members of opening band UNORTHODOX who have confirmed that they opened for WITCH on this night. See the notes for September 23 for more info.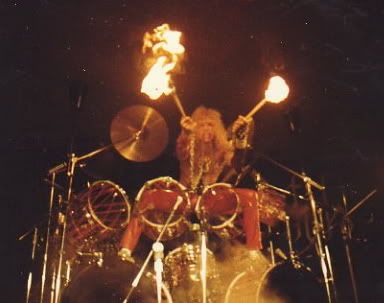 September 23, 1983
Anaheim, California
The Woodstock
Archived: Video
SET LIST (for the afternoon dress rehearsal):
"Pricking of my thumbs" intro tape
Blond Alert
Nervous Wreck
Damnation
Bewitched
(No More) Suffering In Silence
Cinderella (In Black Leather)
Toys In the Attic (Aerosmith cover)

According to an ad in BAM Magazine #164 WITCH was not scheduled to play on this night (GREAT WHITE was the listed headliner). However, according to an ad in the very next issue of BAM (#165), GREAT WHITE had been moved to two headlining nights in October (7 and 8), and WITCH was now listed as the headliner for September 23. Initially it seems unlikely that WITCH would headline the same club only six days apart; however, they were already a tested and proven headliner in Orange County capable of packing the house, and they were also in the good graces of the Schultz's (owners and bookers of The Woodstock). So it's safe to assume that GREAT WHITE canceled their appearance on this night in favor of playing two nights in October, and the Schultz's brought in as a replacement the one band they knew would draw a huge crowd: WITCH. The band did a full dress rehearsal in the afternoon, which was recorded by the club's in-house video system. This rehearsal was not advertised and was not open to the public, so it is not included in the final concert stats. If the nighttime performance was also recorded, the tape has never surfaced. This is the last known time the band played The Woodstock, and the club closed forever shortly after. Above is how every WITCH show began: Punky, wrapped in chains, torches blazing, on top of his kit. (photo courtesy Punky Peru) It's interesting to note that on this same night (September 23), at the same time, BITCH featuring future WITCH lead singer Betsy Bitch was appearing next door at Radio City. Contrary to various reports, WITCH and BITCH never appeared on the same bill together.
On September 24 Punky and Ronny went to see Don Costa's new band M80 at The Troubadour, and Punky found himself in a situation not all too-uncommon for him: in a fistfight with five or six guys and losing badly. At this same moment the manager of The Woodstock--Joe Schultz--and the lighting tech for The Woodstock--Marty "Moose" Finkelstein--walked into The Troub. Joe said, "Hey, that's
our
Punky getting his ass kicked. Maybe you should help him, Marty." A big man and totally fearless, Marty literally threw each of the guys out of the double doors of the club. As he got to Punky, he punched Marty right in the face, thinking he was one of his attackers. Marty said something to the effect of, "I'm helping you, so don't hit me again." A thankful Punky invited Marty to go to the Rainbow with him and Ronny, and once there they asked Marty if he would work for WITCH. He started as Ronny's tech but quickly became the band's stage manager and--more importantly--he assumed responsibility for Punky. For the next six years Marty did his best to keep Punky out of trouble, and the two remain good friends to this day.
On October 1 Punky attended MOTLEY CRUE drummer Tommy Lee's 21st birthday party in West Covina. He and Punky had been friends since MOTLEY CRUE's inception in 1981 (they met at MOTLEY's very first show at The Starwood), and they remained good friends for the next couple of years.
October 8, 1983
Hollywood, California
The Troubadour
Headline Act: SIN
Opening Act: Centaur

Headliner SIN featured former WASP and STEELER bass player Rik Fox--who had auditioned for WITCH earlier in the year--and vocalist Art Deresh, who would eventually join a band with Punky in the 1990s.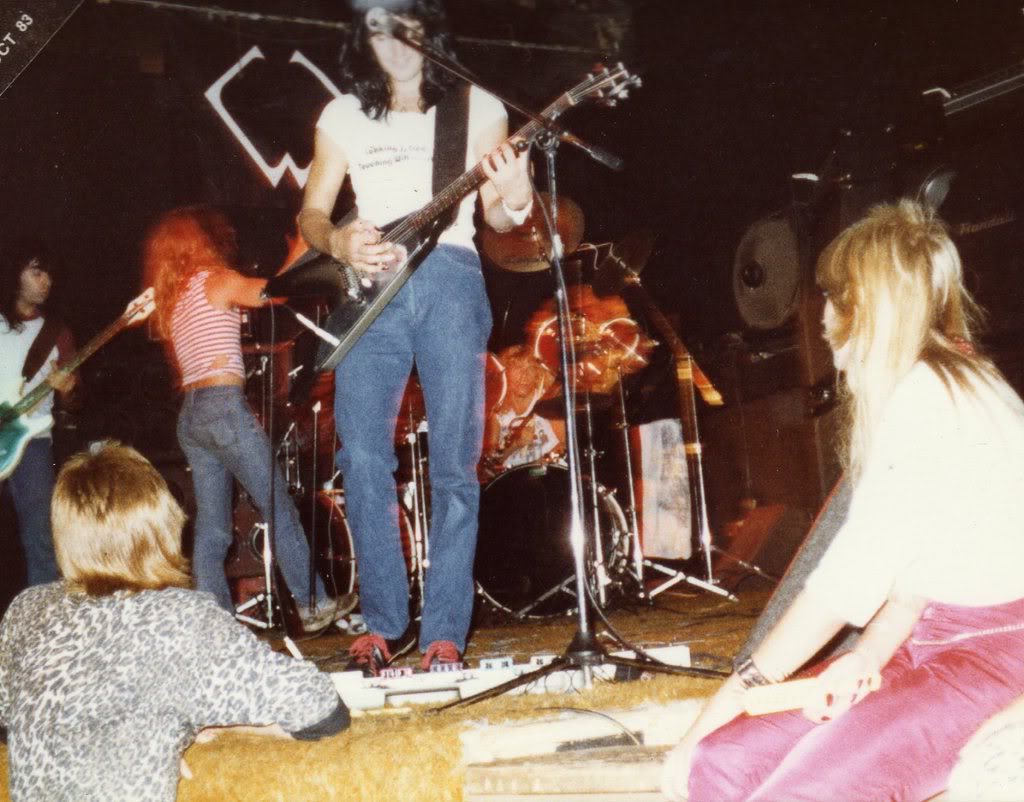 October 15, 1983
Costa Mesa, California
The Concert Factory
Opening Acts: Basteel, Sylum (possibly)
The Concert Factory was the new name for legendary punk club The Cuckoo's Nest. The band was photographed during load-in and soundcheck by fan Claudio Iriarte from Argentina (right). He remembers Basteel being one of the opening bands, and Sylum possibly being the other, although no known printed proof exists.

October 21, 1983
Reseda, California
The Country Club
Opening Acts: SIN, Pandemonium
Archived: Audio
SET LIST:
Wizard Of Oz "Winkie Guard" intro tape
Blond Alert
Nervous Wreck
(No More) Suffering In Silence
Sex-Crazed Woman
Damnation
Bewitched
Cinderella (In Black Leather)
Take You By Force
(Toys In The Attic)

Peter introduced "Damnation" as "a song about death by injection." The audio recording ends with Punky introducing the last song of the show, Aerosmith's "Toys In the Attic."


October 22, 1983
Anaheim, California
Radio City

The first show for WITCH at this club. Located just three doors down from the former location of The Woodstock on the corner of Knott and Ball Avenue, Radio City is best known for being the location of the first-ever METALLICA concert on March 14, 1982. Punky has confirmed that MOTLEY CRUE drummer Tommy Lee attended this show with his first wife, Candice, and he actually played! During Punky's drum solo, he walked on stage and stood next to Punky, and the two did a drum "duo" together. As he turned to exit the stage, he tripped and smashed his face against Punky's gong, chipping one of his front teeth. The WITCH banner was painted by Lisa Hoagland. Lisa is the sister of legendary speed metal drummer Gene "God" Hoagland (HIAX, DARK ANGEL, STRAPPING YOUNG LAD). She also designed the logo for Punky's previous band, DAMIEN, and she painted the banner for DANTE FOX. R The WITCH banner hung behind the band for every single show they ever played through 1991.
October 31, 1983
Hollywood, California
The Troubadour
Headline Act: Kery Doll
Opening Act: Prisoner
This is the show where Punky caught himself on fire. During the intro, Punky lit his drumsticks on fire, but one of the sticks slipped from his hand and flew behind him. The flaming stick stuck in the back of Punky's hair and his whole head went up in flames, fueled by hairspray. He stopped playing long enough to extinguish the flames with a towel, and the show went on. As a Halloween joke, Punky wore a full-body fishnet costume and g-string for the first time on this night. However, this "joke" costume got him a lot of attention from female fans, so it became his regular stage outfit for the next six years. (photo at right courtesy Punky Peru)

November 12, 1983
Costa Mesa, California
The Concert Factory

Punky played this show with a black eye after being punched in the face by Nikki Sixx. MOTLEY CRUE and their opening band HEAVEN were in the middle of a quick West Coast tour, and the tour had played the previous night at the Orange Pavilion in San Bernardino. At this point in CRUE's career Nikki was lighting his boots on fire during the show, but in San Bernardino for some reason the boots would not catch fire. Punky attended this show and following the concert everyone went back to the hotel bar for drinks. Sitting at a booth Punky began to tease Nikki about the malfunctioning fire effect and Nikki got angry. Nikki stood up and said, "Say one more thing mother f'er and I'm gonna deck you." Punky said something to the effect of, "OK, if you're such a bad ass bass player why are you playing in MOTLEY CRUE?" That did it and Nikki punched Punky right in the face, giving him a black eye. Punky went up to his room to recover and later Nikki stopped by and apologized. Update August 29, 2014: it was originally believed that HEAVEN headlined over WITCH at this November 12 Concert Factory show, but further evidence has proven this to be false. The MOTLEY CRUE/HEAVEN tour played in San Francisco on this date, making it impossible for HEAVEN to be in two places at the same time. WITCH and HEAVEN did play together, but that gig took place five weeks later (see December 18 below). It is not known who else was on the bill with WITCH on November 12, or if WITCH was the headliner or opener.

November 25, 1983
Hollywood, California
The Troubadour
Headline Act: Pandemonium
Opening Act: Centaur


An ad in BAM Magazine run by The Troubadour billed this show as "WITCH with Punky Peru and Ronnie Too." The band was only five months old but their legend on the Southern California club scene was growing fast. This was the band's sixth Troubadour show of 1983.

December 3, 1983
Anaheim, California
Radio City

December 18, 1983

Costa Mesa, CA
The Concert Factory
Headline Act: Heaven
Opening Act: Amulet

Recently, photos of WITCH were found that were marked "December 83" and were definitely taken at The Concert Factory in Costa Mesa. Although no other documentation currently exists, based on the band's December schedule--and the fact that they had played this venue on October 15 and November 12--it is likely WITCH played there sometime around December 17. It's interesting to note that the photos confirm the band were opening for another group, because an Ampeg bass rig and Marshall stacks can be seen behind WITCH's gear. However, until this show can be verified it will not be included in the final concert stats. Update August 31, 2009: a couple of sources have come forward with information that WITCH opened a show for one of Yngwie Malmsteen's very first American solo concerts in late 1983. Based on Yngwie's timeline (by most accounts he left ALCATRAZZ sometime in late Summer/early Fall 1983, and his first solo album RISING FORCE was released the following year), and based on the photo above (one person has stated that the Marshall stack on stage
left looks to be Yngwie's set up), it's very possible this show did indeed take place. Once again, however, until it can be verified this show will not be included in the final concert stats. Update August 29, 2014: an ad in BAM Magazine #171 (an issue missing from my collection for the past 30 years, but finally tracked down for me by GUNS N ROSES historian Gavin in England) has finally put an end to this mystery. With the MOTLEY CRUE/HEAVEN tour coming to an end in Phoenix on December 16, HEAVEN booked their own headlining club tour beginning on December 18 at the Concert Factory, and WITCH along with AMULET were the openers. This show can now be added to the final concert stats (thank you, Gavin!) If WITCH and YNGWIE MALMSTEEN did play a show together (prior to their May 10, 1985 gig at Fender's in Long Beach), there seems to be no evidence supporting it.

December 31, 1983
Hollywood, California
The Troubadour
Headline Act: Great White
Opening Act: Pandemonium

WITCH and GREAT WHITE played at least three shows together, and Punky and Peter were friends with Jack Russell going back to the DANTE FOX days. (photo courtesy Punky Peru)