1991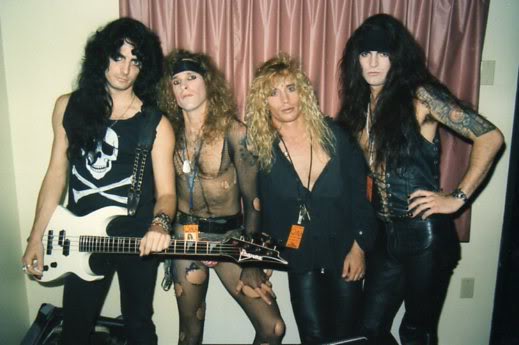 With WITCH seemingly behind them, Punky, Ronny and AWOL began gigging as early as June 8 (at FM Station in Hollywood) and played all through the Summer. With the help of Sharon Osbourne, they played shows with DOKKEN, SAM KINISON, and many other major acts of the time. One memorable show was at Florentine Gardens in Hollywood on August 1. When the band supposedly played longer than they were supposed to, the monitor engineer came on stage to stop them. Punky, enraged, jumped from behind his kit, grabbed a mic stand, and beat the sound man with it until security dragged Punky off stage. It's impossible to know if this incident had anything to do with what came next, but it was at this time that plans for a WITCH reunion show began.
When the idea of a WITCH reunion was conceived, obviously it was to include all
four members of the classic lineup: Punky, Peter, Jim, and Ronny. However, Jim never agreed to do it, but Punky moved forward anyway. Once rehearsals began in early October at Bandwest Studios in Anaheim--without Jim--the band chose Halloween Night as the date for the show. However, by the time they got around to actually booking a club, Halloween was already booked everywhere.
Eventually the band settled for the night-after at The Marquee in Orange County. To make matters worse, as the date grew closer, it became clear that Jim was not going to be a part of this reunion, despite the fact that Punky thought for sure Jim would change his mind. So, Punky called Michael Hannon (pictured above), bass player for SALTY DOG, and he agreed to fill in. This is the fourteenth and final WITCH lineup change.
On October 31, Punky, Peter, and Ronny were interviewed live on KCLA 99.3 FM radio in Los Angeles to promote the "reunion" show. Punky mentions that AWOL was put on hold because he fired their singer (Art Deresh a/k/a RT Craven), and that WITCH is top priority at the moment.
November 1, 1991
Westminster, California
The Marquee (formerly Joshua's Parlor)
Opening Act: Mother's Little Monster
Archived: Video

SET LIST:
"Pricking Of My Thumbs"/Organ intro
Nervous Wreck
Hit the Road
Cinderella (In Black Leather)
Damnation
(No More) Suffering In Silence
Take Me Away
Out On the Streets
AC/DC
Bewitched
Victory Without Pain
Running Scared
1:45
Wet n Wild
Wild Thing
Toys In the Attic


Feelings for Jim to join the reunion were so strong that on November 1, just
hours before show time, Punky, myself, and Ronny went to Jim's house to try one more time to change his mind. The meeting was cold and Jim again declined. About two hours before the gig, Punky phoned Tawn Mastrey who was on-air at Pirate Radio. Over the phone the band recorded a "come on down to The Marquee and see WITCH tonight" promo, and Tawn aired it immediately. So, the reunion show went on as scheduled, minus Jim, and WITCH played one last time. What no one knows, until they read it right here right now, is that Jim attended this reunion show and watched it from the back of the club. After our meeting earlier in the day he had changed his mind and came to the club ready to play, if asked, and he was hoping that they would. However, after the third song of the set Peter introduced the band members. When he came to Michael Hannon, he said, "You may think my man has lost some weight, well that couldn't be further from the truth. This is someone new...." Jim took offense to this. He finished his beer and walked out.
After the show the band went back to their hotel around the corner from the venue. The party lasted until early the next morning when everyone finally went to sleep. Peter was awoken at 11am that morning by a hotel maid banging on the door telling him it was time to check out. He got up and attempted to wake up long-time friend and WITCH crew member LJ, only to discover that he was dead. LJ had apparently died in his sleep sometime that morning. The party was definitely over, and no more shows were scheduled.
*********************************************************


With the demise of AWOL late in 1991, and following the WITCH reunion on November 1, Punky formed THE PUNKY PERU PARTY. This band had a revolving door of band members for a while, including Chris Hager and Kurt from ENTICER.
O
n April 11, 1992, Punky, Ronny, and Billy Thomas played a set at Tawn Mastrey's house party in the Hollywood Hills. It's the last time Punky and Ronny would play together in front of an audience. Stephen Pearcy from RATT was there, and he and Punky would write at least one song together in the ensuing months.
On December 31, 1992, THE PUNKY PERU PARTY played at Tawn's house and were joined
on drums by former GUNS N ROSES drummer Steven Adler, who jammed Alice Cooper's "School's Out" and Led Zeppelin's "Rock n Roll."
Ronny played guitar for one show with his wife's band, MOTHER'S LITTLE MONSTER. This performance, at FM Station in mid-1992, is the last time Ronny ever performed on stage.
Punky and Ronny continued to write and record together throughout '92 and '93.
In late 1993, Punky and Jim Warmon co-wrote one song and played together on demos for another one of Punky's projects, the
PERU CREW (see details of these demos in the RECORDS/TAPES/CDs section.) Punky, Jim, and PERU CREW (originally named REDRUM but changed at Jim's insistence) played three live shows together in early 1994: two at Goodies in Fullerton and one show at a club in Huntington Beach. PERU CREW was a highly theatrical band, even blatantly ripping off WASP by including in their show a girl strapped to a rack, whipped bloody by Punky. Although the band broke up within a few months, Punky and Jim remained in contact throughout the years. Pictured at right are Jim and Punky with PERU CREW in Huntington Beach. (photo courtesy Punky Peru)
Then, in 1997, it seemed as if Punky and Peter would finally get their big break with the formation of GOD BOX. This band
included Punky on drums, Peter (now renamed Peter Soul) on vocals, Phil Chen from ROD STEWART on bass, and Rowen Robertson on guitar. The band recorded a six-song demo (including the old WITCH favorite "Take Me Away") that included guest appearances by Slash, Keith Emerson, Howard Leese, and Steve Stevens. Produced by Howard Leese and recorded at Music Box Studios in Hollywood, the cover for the cassette-only release featured a group photo by famed photographer Neil Zlozower (
see details in the RECORDS/TAPES/CDs section.)
. But alas, the project never went further than this and the band quietly folded. Pictured at left are Rowan, Phil, Punky and Peter. (photo courtesy Punky Peru)
In 2000 Peter began working with an Orange County band called HIGHWAY. They released two CDs in 2001 and 2002 (for more info see the the RECORDS/TAPES/CD section). They played numerous shows in and around Orange County before Peter left the band in 2002.
Punky Peru once again teamed up with Mark Mason in 2001 and recorded a new AMPAGE album entitled

Falling Higher

.

*****************************************************************************
Witchtheband.com launched on September 4, 2007.

*****************************************************************************