1986
Following the demise of WITCH in September of 1985, Punky and Peter formed a new band called SPOILED ROTTEN. This band included bass player Justin Tyme and female guitarist Jenny T (formerly of KARIZMA). At right is a photo of the original lineup: Justin, Peter, Punky, and Jenny (courtesy Punky Peru). They played their debut performance on January 25, 1986, at the Troubadour, and Punky played just this one show. SPOILED ROTTEN carried on without him, replacing him with Vic "Pops" Curtis. Peter remained with this band until at least March 23 but ultimately he, too, quit, was replaced, and SPOILED ROTTEN carried on for the next year. Recently an amateur audio recording surfaced of the SPOILED ROTTEN show from March 23, 1986 at the Legg Lake Fairgrounds in Cerritos. The recording is worth noting here because not only does it contain two WITCH songs, but it is the only known SPOILED ROTTEN recording and includes original songs written by Punky and Peter that soon disappeared forever. The set list was as follows:

I'm Not Alone
Step Outside
Stay With Us
Keep the Light On (WITCH song)
Tear Down Your Wall
I Don't Wanna Go
Wet n Wild (WITCH song)
Open Highway
I'm A Believer (MONKEES cover)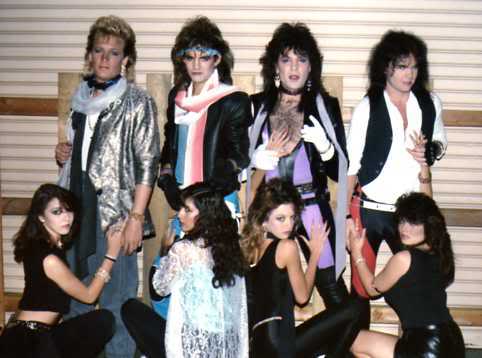 At this exact time--March/April 1986--Jim and Ronny formed their own band, CIRCUS CIRCUS (not to be confused with the Blackie Lawless band from the late 1970s with the same name). This band--which also included Michael Gee and Billy Kay--had a heavy glam image, and publicity photos of the band were taken by me on April 15 at the Practice Pad in Fullerton (at left is Billy, Ronny, Jim, and Michael). The band played their first and only show on April 25 at Jezebel's in Anaheim. Jim quit the band immediately following this show because of issues he had with the singer.
A few months later Ronny formed yet another band, CAUTION, which included former MERCENARY guitarist Scott Rickett. CAUTION also rehearsed at The Practice Pad in Fullerton, and these studios became the scene of a major falling out between Jim and Ronny. One night all of Scott's equipment was stolen from the studios, and even though he had not been there since the CIRCUS CIRCUS rehearsals in April, the blame was put on Jim. Although he had returned his studio key, Practice Pad manager Chris (drummer for CITIZEN KANE) told Ronny that Jim had not done so. When confronted, Jim asked Ronny, "Do you really think I could be capable of stealing anything?", and Ronny replied, "I don't know." Jim thought of Ronny like a brother, so this really hurt him. It would take years for this to be resolved and forgiven.

On April 9 an article appeared in the Los Angeles Times detailing the end of Radio City:

Anaheim : Council Votes to Revoke Radio City Club's Permit
Orange County Digest
Randy Lewis - April 9, 1986

The City Council voted unanimously Tuesday to revoke the operating permit for Radio City, the only club in the city that provides a showcase for local rock groups performing original music.
"We regret we had to take this action," Mayor Don R. Roth said after the vote, which upheld a Feb. 19 decision by the Planning Commission to revoke Radio City's conditional-use permit. "There has been too much impact from this location on the community and on the neighbors."
Club owner Jerry Roach, visibly angered at the action, complained afterward that the council refused to hear testimony from everyone who had attended the hearing.
"What kind of open hearing is that when they say 'That's enough'? They had already made up their minds," Roach said.
Nearly two dozen people attended the appeal hearing, but only 10 were permitted to speak. After more than an hour of testimony, Roth closed the public hearing and the council voted 5 to 0 to uphold the revocation of the club's permit.
Radio City, located at 945 S. Knott Ave. in a complex that also houses a band rehearsal studio and a Top 40 nightclub, has been closed since it was destroyed by an arson-caused fire in November.
Only two clubs remain in Orange County that provide a showcase for local and national touring club acts: Safari Sam's in Huntington Beach and the Coach House in San Juan Capistrano. Two other concert clubs, the Golden Bear in Huntington Beach and Spatz in Huntington Harbour, closed earlier this year.
The move to revoke Radio City's permit was prompted by a Police Department recommendation citing 87 police contacts at the club since it opened in 1981.
In addition, a petition citing excessive noise from Radio City--described in the petition as "a recording studio"--was signed by 63 residents of an apartment complex north of the club and delivered to the city in January.
Roach argued that Radio City was being unfairly singled out as the source of all problems in the complex. "You've got the wrong man," Roach said.
Although WITCH had officially broken up seven months earlier, and Punky, Peter, Ronny, and Jim had each moved on to different projects, in early April ads began appearing in BAM Magazine announcing WITCH reunion shows:

April 18, 1986
Anaheim, California
Jezebel's

An ad appeared in BAM Magazine issue #229 advertising this date as "WITCH REUNION!" A similar ad for this date also appeared in BAM #230, advertising a WITCH reunion along with JADED LADY. The show never happened.

April 20, 1986
Westminster, California
Joshua's Parlor

Another ad appeared in BAM Magazine #229, advertising this date as another WITCH reunion show with MALICE as the headliner. Like the Jezebel's show above, WITCH did not appear. Jezebel's and Joshua's Parlor had the same booking agent, Joe Schultz, who would come to represent WITCH by the end of the year. Apparently he booked and advertised these shows in an attempt to encourage WITCH to reunite, but they were not interested at the moment. It would be another four months before any type of WITCH reunion was officially planned.
August 14, 1986
Anaheim, California
Jezebel's
Headline Act: Caution
Opening Acts: Main Street, Carrera
Archived: Video
SET LIST:
Out In the Streets (future WITCH song)
Babe City
On A Roll (We Need To Rock)
Take Me Home
While We're Young
R.O.C.K.
Falling Stars
Beat 'em Up
Say Bye Bye
Heartbreak Hotel
WITCH SET:
Wet n Wild
Wild Thing

Although not advertised as such, this night included a WITCH reunion of the classic lineup for a very short set (and because the band did indeed play, this performance is included in the final concert stats). Fronted by Ronny Too on vocals and guitar, CAUTION included Scott Rickett on guitar, "Studley" Dudley McLaughlin on bass, and Joe Roth on drums. Opening song "Out In the Streets" would later become a WITCH song, although with a different arrangement and a slight title change to "Out On the Streets." CAUTION was introduced by Punky and Jim and, following CAUTION's set--and using all of that band's gear--WITCH took to the stage. The band's playing was rough, but not too bad for four guys who hadn't been in the same room together for nearly a year. For "Wild Thing," Ronny took over on lead vocals, Jim played guitar, Punky played bass, and Peter drummed. Following this brief performance, a full-scale reunion was planned for the Fall, but it would not include Ronny.

By the end of Summer, Punky, Peter, and Jim decided that a WITCH reunion was on, but for two big reasons Ronny was not invited: most of the blame for Punky's firing the previous year was put on Ronny, and Jim was still angry at Ronny for ever believing that he may have had something to do with the theft at The Practice Pad. So, two new guitarists were recruited to take Ronny's place: John Davin--who changed his name to Davin St. John--who had previously played with Jim in JEKYLL AND HYDE back in 1983; and current CAUTION guitarist Scott Rickett, who Punky stole away from that band (which was another form of revenge against Ronny). Booking agent Joe Schultz represented the band at this time, and he issued a reunion press release to local music papers. Rehearsals began and three new songs were added to the set: "Saboteur," an instrumental that would open the show; "Can't Take Our Rock," and the power ballad "Victory Without Pain." Photographer David B. White took photos of the new lineup, and promotional NOBODY SLEEPS 1986-87 posters were produced:
October 30, 1986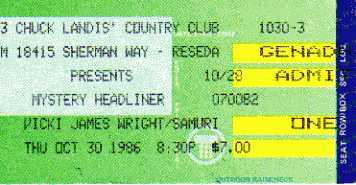 Reseda, California
The Country Club
Opening Acts: Vicki St. James, Samuri
Archived: Audio, although the tape has been lost
SET LIST:
Saboteur
Cinderella (In Black Leather)
Nervous Wreck
Can't Take Our Rock
Danmation
(No More) Suffering In Silence
Victory Without Pain
S.O.S. (Aerosmith cover)
Wet n Wild

This was a surprise, unannounced warm-up show for a series of "Return Of WITCH" performances. A radio spot was produced by the promoter and read by D.J. Tawn Mastrey on KNAC, but it was a teaser: "Tomorrow at the Country Club see a band 'WHICH' you all loved, 'WHICH' you never thought you'd see again, 'WHICH' are back and better than ever." Beginning with this Country Club show, Punky started using a burning cross at the beginning of the show instead of the torches. Jim's new costume included 50 pounds of real chains that left him bloody after each show. The band looked and sounded better than ever, still heavy but with a little more polish, and the stage was set for a good new year.

October 31, 1986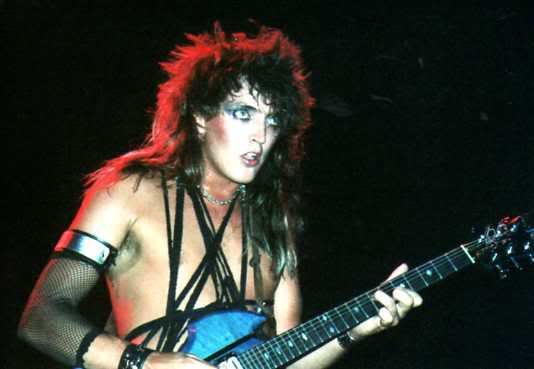 Anaheim, California
Jezebel's
Opening Act: Knightmare II
Archived: Video
SET LIST:
"Pricking Of My Thumbs" intro tape
Saboteur
Cinderella (In Black Leather)
Nervous Wreck
Can't Take Our Rock
Damnation
(No More) Suffering In Silence
Victory Without Pain
Time Keeps Running Out On Me
S.O.S. (Aerosmith cover)
Wet N Wild
This was the first official reunion show. New guitarist Davin St. John is pictured above.

November 26, 1986

Anaheim, California
Jezebel's
Opening Acts: Misguided, Defcon
Archived: Video
SET LIST:
"Pricking Of My Thumbs" intro tape
Saboteur
Cinderella (In Black Leather)
Can't Take Our Rock
Damnation
(No More) Suffering in Silence
Victory Without Pain
Time Keeps Running Out
S.O.S. (Aerosmith cover)
Nervous Wreck
Wet N Wild
Punky used the burning cross for the last time at this show. He and I talked about this new prop sometime before this show, and Punky told me for as hardcore as WITCH was, he feared that he would inadvertently flip the cross
upside down during the intro. Whether he meant to do it or not, the cross turned upside down on this night so Punky decided to cut it from the show. Like previous Jezebel's shows, tonight's show was video taped by the club's in-house system. It's interesting to note that on November 9, 1986--just two weeks before this WITCH gig--METALLICA played their second-ever show with Jason Newstead at this club. That show, too, was recorded by the same video system. (New WITCH guitarist Scott Rickett is pictured above right.)
In late November WITCH entered Sunset Sound Studios in
Hollywood and began recording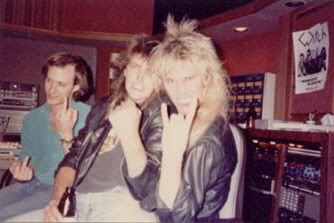 two songs for a 12" single to be released in the Spring. The two songs were "Can't Take Our Rock" and "Victory Without Pain," and both would become staples in the WITCH live set. According to Ronny Peter did the vocal for "Victory" in one take. At right is engineer David Glover with Davin St. John and Scott Rickett during a break from recording (photo courtesy Scott Rickett). Davin and Scott, although new to WITCH, were writing the majority of their new music at this time, while Peter penned the lyrics.

Armed with fresh new band members, songs, stage show, and studio recordings, the band was pumped for the new year and the promise that it held. They began booking shows throughout Orange County and Hollywood for the first part of 1987, and the Return of WITCH was well received.