2013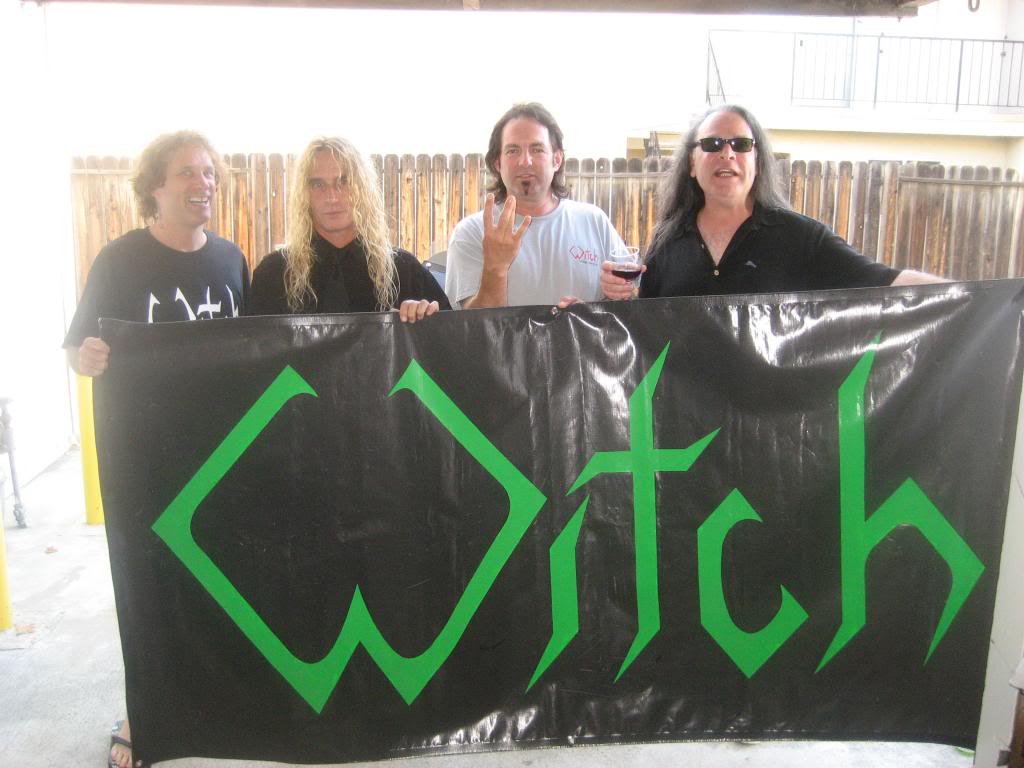 Never say never. With the exception of their show on New Year's Eve 2009, and the release of THE HEX IS ON…AND THEN SOME in November of 2011, things remained quiet in the WITCH camp for nearly four years. There had been talk of a reunion show during those years, although nothing ever moved into the planning stages, and the band members remained in touch despite the fact that Jim and Punky were in California, Ronny in Idaho, and Peter in Texas. But just when it seemed that WITCH had played their final show and packed it up, in February 2013 Punky and former Jezebel's manager Tom Boyle discussed the possibility of a full-fledged WITCH reunion to take place sometime in early summer. Starting in 2011 Tom had begun producing a yearly "Jezebel's Resurrection" concert at a club in Santa Ana called Malone's, gathering together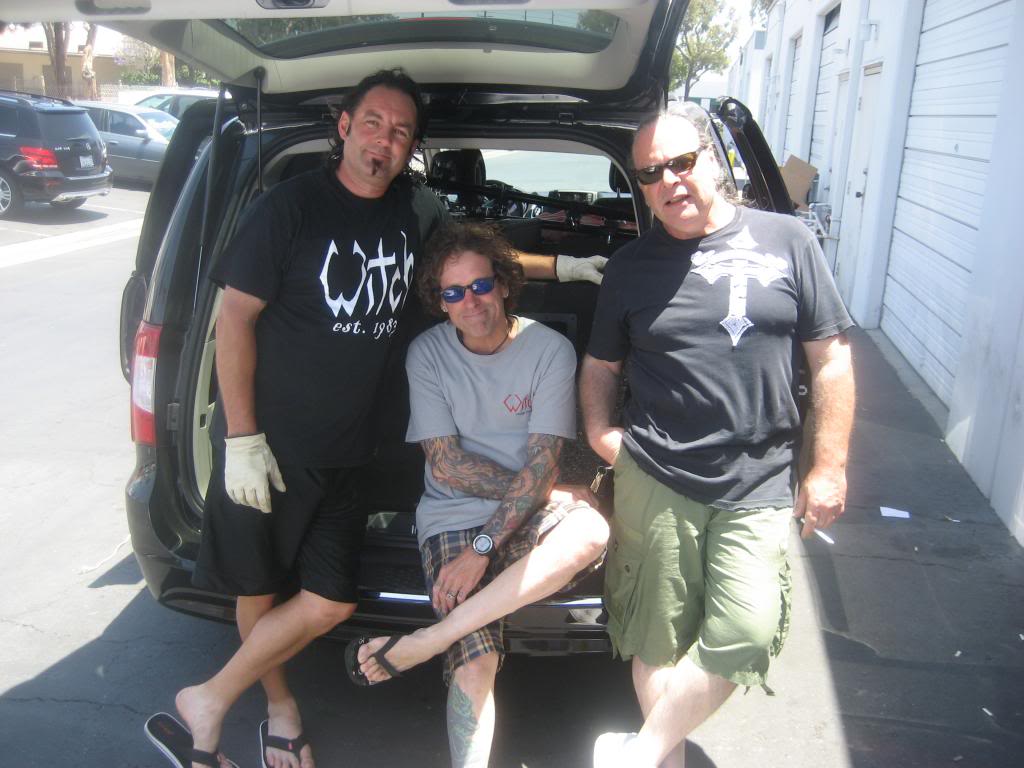 bands who were regulars at Jezebel's back in the 80s and early 90s. Since WITCH had headlined Jezebel's nearly twenty times it seemed only natural that they would take part in these Resurrection concerts. However, for various reasons a WITCH reunion was not possible in 2011 or 2012, but after speaking with Tom and making calls to Peter, Jim, and Ronny, Punky announced that 2013 would be the year and June 22 would be the date. With the band members living in three different states, extensive rehearsing was a luxury they could not afford, so on April 20 and 21 Punky, Jim, and Ronny convened at Trojan Studios in Orange County for two marathon sessions. To complicate matters further, and because WITCH has never taken the easy road, they decided to play no less than seven songs from the GOD BOX sessions featured on THE HEX IS ON…AND THEN SOME, none of which had ever been played live before.

On June 17 Peter flew in to Orange County and rehearsed with the band that night and the following two nights.

Thursday the 20th was a day off, and on Friday the 21st a band dinner was held at Punky and Kelsey's home in Huntington Beach.
June 22, 2013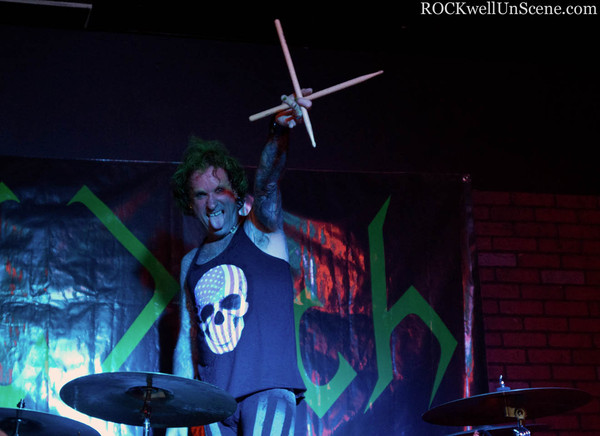 Santa Ana, CA
Malone's
Closing Acts: Filthy Rocks, White Lie
Opening Act: EV Loud
Archived: Video (multiple sources)
SET LIST:
Mad For Life
Pay the Due
Take Me Away
Playing In the Rain
1:45
Games That People Play
Black Magic

Crazy
Damnation
Cinderella (In Black Leather)
Conviction
It only took 24 years, 2 months, and 11 days, but the classic lineup of Peter Wabitt, Punky Peru, Jim Warmon, and Ronny Too finally took to the stage one more time (photos top and bottom right by Mike "Ozzy" Gibbens). Truly a great night for the band, made possible in part by a loud and enthusiastic crowd of well over 300 metal heads young and old (some so young they hadn't even been born when WITCH was playing the original Jezebel's twenty-five years ago). This show was part of the Jezebel's Resurrection night, but it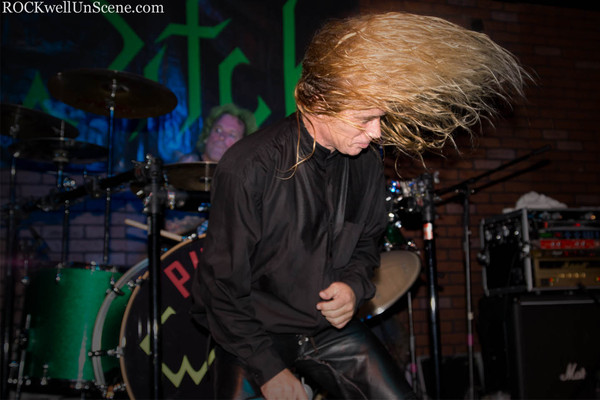 also commemorated the band's 30th anniversary. Anniversary shirts were sold at the show, and included the date and location of every gig the band ever played listed on the back. No intro tape was used (originally a video retrospective was going to introduce the band, but the idea was scrapped early on), and Punky did not use the torches. The only staging elements were a fog machine and a large curtain rigged in front of the stage that was dropped to reveal the band during the beginning of "Mad For Life." A lot of bands
have played a reunion gig, but how many of them include seven never before heard songs in their set? Only WITCH. The new songs were well received and served to take the nostalgic shine off the show. This was the 'old' WITCH, but in many ways it was also a new WITCH, armed with new songs, a new yet familiar image, and a slightly—slightly--more mature attitude that only comes with time. Ronny even updated the WITCH banner (the new banner made in 2008) by painting the white logo green. The band took their final bows at the end of "Cinderella," then without leaving the stage they launched into the encore tune, "Conviction." Exactly sixty-two minutes after taking the stage it was over. Thirty years of history, twenty-four years in the making, nearly five months and countless dollars in the planning, it all came down to sixty-two minutes of unforgettable stage time. This may well be the final WITCH gig, but never say never.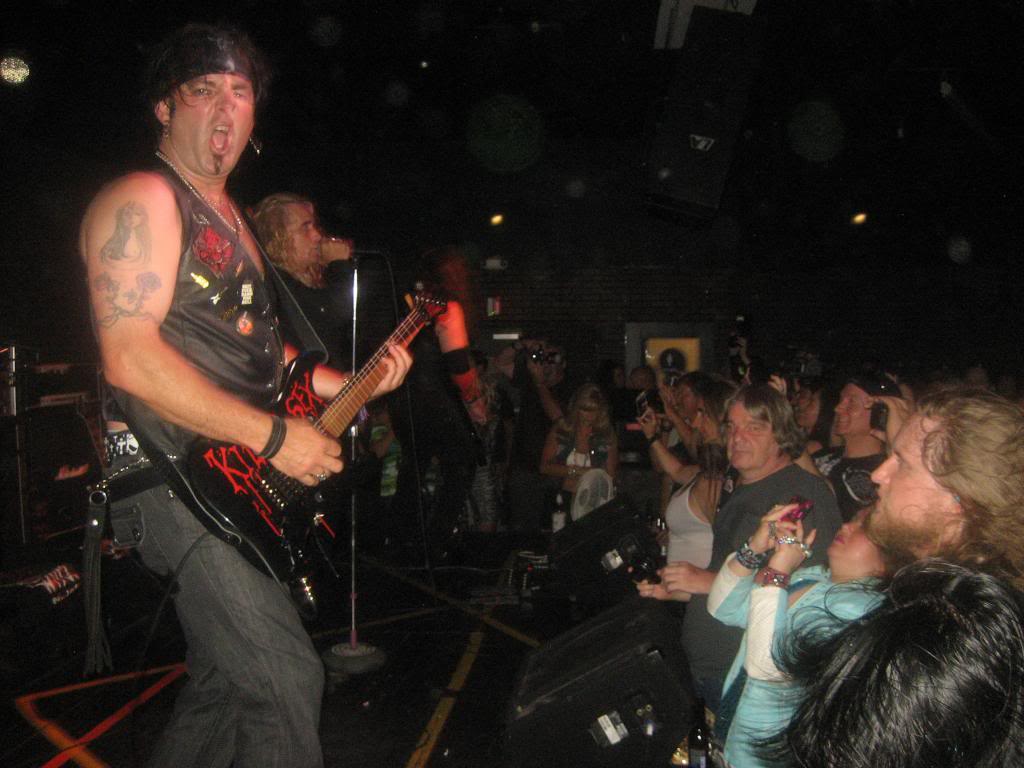 On July 15, Melissa Anderson at the Lake Elsinore Examiner published a review of the June 22 Reunion show, and included some great photos by Rockwell Anderson Media:


"Next on my list to see was Witch. All I can say is WOW!!! This was my first time seeing them play. For the band it was a reunion set. Hard core fans packed the floor to see this set. I was being tossed around when trying to take pics because the fans were trying to get as close as possible. The band was very gracious on stage. They tossed out t shirts and CD's. The bass player took notice and personally handed some lucky fans a cd from the stage. One fan in particular, a young man who was all of 6ft tall and
200lbs plus, started jumping up and down hugged me and said, "Oh My God Witch just gave me a CD!". The band seemed to feed off the energy of the crowd and the more people cheered and waved arms in the air the better the songs got. Even the drummer got in on the action by standing up at the end of every song and waving to the fans. I had a rocking time at this show.
The whole night was fun, the energy in the air was positive and fun. It was a great event to be part of ."
On July 23, Orange County, California arts and entertainment newspaper OC Weekly published "The 10 Greatest OC Metal Bands Of All Time," and WITCH came in at #7. Here's their blurb about the band:

"This is definitely an obscure pick. Only true underground and old-school metal fans will know about Witch, another band out of Huntington Beach, born out of the early '80s Southern California speed metal/glam metal scene. This is a band that has been FORGOTTEN by time, but only now fans are nostalgic for its music and legends of its live performances.
Made up of singer Peter Wabbit, Ronny Too on guitars, Punky Peru on drums and Jim Wormon on bass. Perhaps in a parallel universe somewhere, Witch is as big as Motley Crue. Be sure to check out the 1984's EP The Hex Is On and the compilation Damnation from 2008. The band is no longer active but a complete history, including pictures, archives of shows and flyers, as well as a detailed biography can be found at www.witchtheband.com."

The complete list is:
10 Bleeding Through
9 Hirax
8 Fu Manchu
7 WITCH
6 Stryper
5 Avenged Sevenfold
4 Leatherwolf
3 Throwdown
2 Dystopia
1 Phobia