1984
January 7, 1984
Hollywood, California
The Troubadour
Headline Act: Brooklyn Brats
Opening Act: Nuhaven
January 20, 1984
Hollywood, California
The Roxy
Headline Act: Malice
Opening Acts: Odin, Lizzy Borden
This show was chosen by WASP founder Blackie Lawless to be Punky's audition show for WASP. Having just fired original drummer Tony Richards, Blackie had approached Punky about taking Tony's place. Punky never agreed to do it, but he couldn't stop Blackie from coming to the show. If you talk to Punky, he'll tell you that Blackie offered him the WASP job in the Roxy dressing room following this show but he turned it down. However, according to Jim, Punky was not offered the job because Blackie was not happy with what he had seen that night. Either way, Punky was still firmly in WITCH. (photo by David White)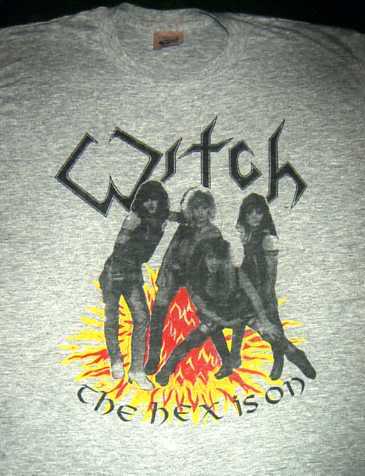 January 21, 1984
Anaheim, California
Radio City
Around this time the band's first T-Shirt was produced (at right). The design was printed on both red and grey shirts and sold for $8 each at the band's merch stand. A second T-Shirt--red with a black WITCH logo printed on the front--was also produced solely for the band and crew.


February 2, 1984
WITCH Canceled
Costa Mesa, California
The Concert Factory
Headline Act: Michael Schenker Group (MSG)
Opening Act: Mondo Cane

For the first time in their career, WITCH were forced to cancel a booking. After MSG loaded in their gear and set up for soundcheck, they had such a large amount of gear that there was no room for the opening bands. WITCH and MONDO CANE, all at the venue and waiting to load in, were told they would not be playing. MONDO CANE's manager, Shawn Perry, remembers it this way: "I remember that night well. They rebuilt the stage for Schenker and after he set up and did a sound check, he refused to tear down his gear for Witch and Mondo Cane. To make matters worse, the venue over-sold the venue and MSG didn't go on until 11:00. After he played, the place cleared, and to my recollection, neither Witch or Mondo Cane played. MSG's manager was apologetic and gave me 10 passes for their show the next night at the Country Club. We turned around and sold them."

February 3, 1984
Hollywood, California
The Troubadour
Headline Act: Rhoads

Headliner RHOADS featured Kelle Rhoads, the older brother of OZZY OSBOURNE/QUIET RIOT guitar ace Randy Rhoads, and future MEGADETH drummer Nick Menza.


February 11, 1984
San Pedro, California
The Dancing Waters Club
Headline Act: SIN
Opening Act: Stone Tiger

The Dancing Waters Club got its name because of the large, real waterfall directly upstage center.

February 17, 1984


Hollywood, California
The Troubadour
Opening Acts: Rhoads, Beowulf

This show represents the first time WITCH headlined in Hollywood.

Future WITCH guitarist Scott Rickett saw a Troubadour WITCH show early on in the band's career. Scott was on tour with MERCENARY at the time who were also doing shows in L.A., and he was told by a friend that he had to see this great local band named WITCH. Scott remembers it was a headlining show and the Troub was packed to the rafters with a long line of people outside trying to get in. When WITCH went on Scott said they absolutely blew his mind and he felt like he was seeing a band at the Forum. Two-and-a-half years later Scott would join WITCH.
On March 2 an article about WITCH entitled "WITCH Hopes To Materialize On Top" appeared in the Los Angeles Times. This article essentially "made" WITCH on the So Cal club circuit. For the next year nearly every show they played was a sell out. But the article also created some negative feedback: the owners of the mobile home park in Midway City where Punky lived (otherwise known as "Witch Manor") also read the article. They accused Punky of running a business (in this case, WITCH itself) in a residential neighborhood--against zoning laws in California. By summer Punky was forced to move, and the mobile home in space #66 where so many So Cal metal pioneers lived and partied--MOTLEY CRUE, GREAT WHITE, MALICE, WASP, WITCH and others--was sold off.

March 3, 1984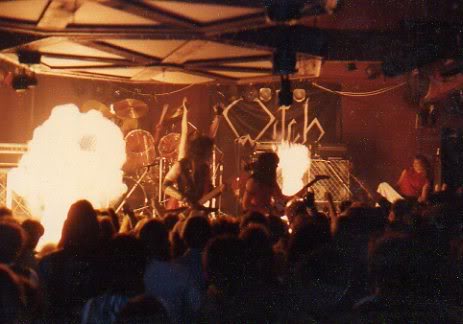 Anaheim, California
Radio City
This is likely the show where Ronny caught on fire. At this time, the band used so much pyro on stage that they had to have an FX rehearsal a day or two before each gig, but Ronny decided that he did not need to attend the rehearsal for this show. This night, in the wrong place at the wrong time, the flame cannons went off on cue and completely engulfed Ronny in fire. He was wearing--for the first time--a custom made, one-piece red costume made of plastic, and the heat of the flames melted the plastic to Ronny's skin over his entire body. Above is WITCH and part of their pyro display at Radio City sometime in early 1984. Pyro technician Rich Paris--in a red WITCH shirt--can be seen setting off the cannons on the right side of the picture. Later in the year the band would set the ceiling of a club on fire without any major damage or injury, but looking at the photo above it's a wonder that they never burned a club to the ground. (photo courtesy Punky Peru)

It is around this time WITCH entered Sound Affair Studios in Santa Ana to finish recording what would become their first e.p., THE HEX IS ON. With Sound Affair Studios owner Ron Leeper engineering, the band recorded "Wet n Wild" and "Blond Alert" (although, unfortunately, this song would eventually be dropped before the e.p. went to press) and re-recorded "Cinderella (In Black Leather)." Using the masters from their first recording session back in July of 1983 consisting of "Bewitched," "Nervous Wreck," and "Damnation," the final mixing sessions for THE HEX IS ON were held at United Recording Studios in Hollywood. It should be noted that the original recording of "Cinderella (In Black Leather)" from July 1983 has been lost, as have all of the masters for this e.p.

WITCH's reputation on the L.A. metal scene was growing fast. An audio recording recently surfaced of SIN performing on March 10 at The Troubadour. Their vocalist, Art Deresh, announces that SIN will be playing again at the Troubadour on May 4 and 5 with "WITCH, son of a WITCH, and the daughter of WITCH, featuring Punky, star of stage, screen and the Troubadour bathroom." Punky's antics in that bathroom are legendary, even this early in the band's career.
At the beginning of April WITCH was featured on radio station KLOS's "Local Music Show." The station played three songs from the newly-completed THE HEX IS ON recording session, including "Damnation." This is the first time WITCH received airplay on a major radio station.
April 7, 1984

Pasadena, California
Perkin's Palace
Headline Act: Keel
Opening Acts: Max Havoc, Stryper
A huge show for WITCH, opening for the debut performance of Ron Keel's KEEL, following the breakup of STEELER. This show was produced by DeeDee Lewis, who had also produced the January 20 MALICE and WITCH show at The Roxy, as well as the following April 13 show in Culver City. She would later marry Ron Keel. Photographer Kevin Estrada remembers the concert this way: "WITCH was another credible metal act from Los Angeles....they had instant street cred thanks to their drummer, Punky Peru. Not only did WITCH have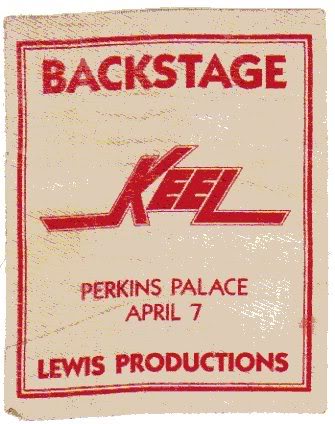 a loose canon for a drummer, but their singer, Peter Wabitt, was also a bit of a madman on stage. Wabitt's vocals were dark, eerie and powerful. Another aspect that I thought was really cool about WITCH's live show was their guitarist, Ronny Too. I love Flying V Guitars, they just look so metal, and Ronny would always bust them out. WITCH played some big gigs in their career...but this show at Perkin's Palace proved to be a huge show for WITCH. Witch was direct support for the debut performance of Ron Keel's KEEL. Ron Keel was the hottest unsigned name in Metal in L.A. at the time and needless to say, there was a lot of hype on this show and it was packed to the rim. WITCH was just about to release their EP,
The Hex Is On
, and the Los Angeles rock radio station, KLOS, had just premiered a few of their songs, including the show-stopper, "Damnation," on The Local Music Show. KLOS had also premiered a few of Ron Keel's new solo songs and the L.A. Metal Community was thirsty to hear more from all of the bands on the bill. I remember looking up at the balcony that night and seeing hands, arms and bodies hanging over the edge. It was definitely an oversold show." Check out more from Kevin at
www.kevinestrada.wordpress.com
and
www.kevinestrada.com
.
April 13, 1984


Culver City, California
Culver Vets Hall
Opening Acts: Slayer, Lizzy Borden, Tyrant
For the first--and last--time, tickets and real cloth back stage passes both featuring the WITCH logo were issued for this show. This could arguably be considered the biggest gig of WITCH's career, headlining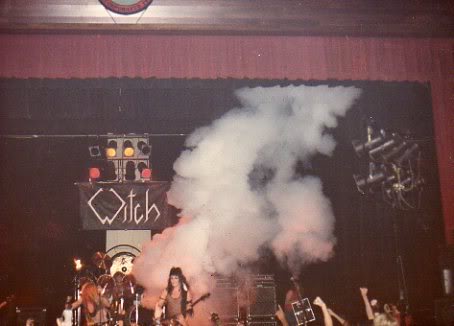 over local majors SLAYER and LIZZY BORDEN. The show was sold out with more than 1500 metal heads packed into Vets Hall to see WITCH at the very top of their game. Tapestry Artists Management attended this show--who were managing Y&T at the time--and negotiations began for them to manage WITCH. At left is WITCH blowing up the Culver Vets stage. (photo courtesy Punky Peru) This is the last time WITCH and SLAYER played on the same bill together, as SLAYER were just on the verge of international stardom. SLAYER were not too happy about playing support to WITCH again, and even less happy about walking around all day wearing a backstage pass emblazoned with the WITCH logo. So, SLAYER band and crew blacked-out the WITCH logo and drew-in SLAYER's logo instead. The WITCH road crew also told Punky that Tom Araya announced between songs, "There's going to be a WITCH burning at midnight!" Another note about this gig: it has been reported by at least three different sources that at this point in his life, Axl Rose was working as a security guard for an event security company, and he worked security at tonight's show near the front of the stage.

May 4, 1984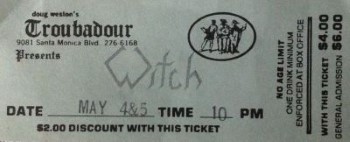 Hollywood, California
The Troubadour
Headline Act: SIN
Opening Act: Kcordrah
This was the debut performance of the new lineup for Rik Fox's SIN, featuring Frank Starr on vocals. Rik and band were interviewed live on radio station KUCI April 13 promoting these shows at The Troubadour. (My thanks to AGENT STEEL crew member Jude Fero for sending the ticket for these two Troubadour shows at right)

May 5, 1984
Hollywood, California
The Troubadour
Headline Act: SIN
Opening Act: Assault
Sometime during May WITCH was cast to play a mutant Heavy Metal band in the film RADIOACTIVE DREAMS (below is WITCH on the set; photo courtesy Punky Peru.) They got the gig through a female friend associated with the movie and they did not have to audition.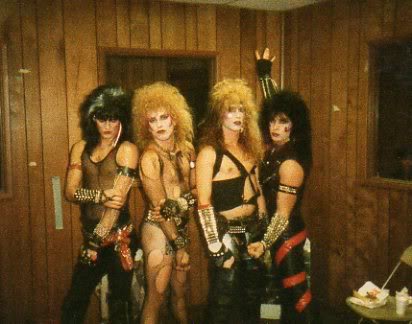 WITCH's scenes were filmed over a four day period, working from 4pm to 4am each day, and each band member was paid $2,000. Set in 2010, 15 years after a nuclear holocaust, two "detectives" emerge from their bomb shelter looking for fun! WITCH makes a very brief appearance, looking not too unlike their normal selves, rocking out on stage as victims of the holocaust rock with them. The band wore their own stage costumes but their hair and makeup were professionally done on the set. All filming took place at the old Uniroyal Tire Company building in the City Of Commerce. Originally built in 1928
as a replica of Sargone's Assyrian Palace to house the Samson Tire and Rubber Company, the location was featured in the 1959 film Ben Hur, and was sold to Uniroyal Tire in 1962. Closed in 1978, the building was placed on the National Registry of Historic Places in 1982, and was used for movie and video shoots until the mid-1990s. Today this historic location is a Citadel Outlets Mall, but the original structure is still intact. At right is the Palace wall in 2009. The room at the very top-center of the building was known--for the four days they were on set--as "The WITCH Fort," where the band partied hard with many of the female extras. RADIOACTIVE DREAMS starred Michael Dudikoff and Lisa Blount and opened on September 19, 1986. To date it has grossed a dismal $240,000 worldwide.

May 18, 1984
Anaheim, California
Radio City
Opening Acts: Ruthless, Straightshooter
This was the first time I ever saw WITCH. Radio City's telephone concert hot line announced: "See WITCH in a small club while you can."
I can't emphasize enough how huge WITCH was on the metal scene at this time. The club was definitely sold out, with fans crammed from the front of the stage (where I was) all the way back past the bar and pool table at the rear of the club. We were not the "beautiful people," either. This was not the glamorous crowd seen in THE DECLINE OF WESTERN CIVILIZATION movie a few years later. We were the denim, leather, spikes and chains crowd; not there to be pretty, but there to live metal with WITCH leading the way. When the band hit the stage, there was a huge crowd surge forward and I was smashed against the stage. Punky's torches were blazing and the heat from the fire cannons surrounding the stage was so intense that it felt dangerous to be there. Jim's bass cabinets were faced with barbed wire and Ronny's cabinets had chain-link fence stretched across them. Peter was using only the top portion of a microphone stand and he swung it
around like an axe. The lights from the drum riser (modeled after Tommy Lee's but made bigger and brighter by Punky) were blinding. The fog was so thick sometimes that the band was not even visible, but then suddenly one of them would be right in my face. In my mind each band member had his own persona: Punky was The Escaped Lunatic. Jim was The Beast. Ronny was The Rock God. And Peter was The Circus Ring Leader keeping all of us animals on his leash. No one in the band ever made eye contact with those of us in the front rows. Instead, they were always looking toward the rear of the club, as if trying to connect with fans in the last rows of the Los Angeles Forum. WITCH was bigger than Radio City, bigger than all the clubs, and larger than life. They were training to be rock stars and doing it. If KISS had walked on stage during this show they would've been booed because we were there for WITCH. When the show was over I was exhausted and hooked on WITCH for the rest of my life. As a 39 year-old writing this today, some of this may seem a little corny. But I can honestly say it is the truth of this moment in time: May 18, 1984. Until the end of time bands will play shows and have fans and "make it," but it will never happen like this again.
(photos above courtesy Jim Warmon)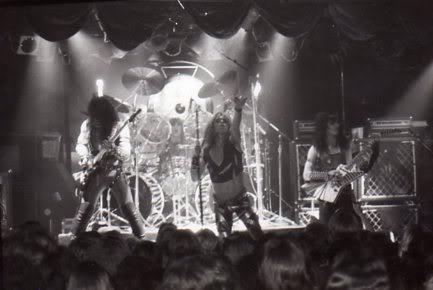 June 9, 1984
San Pedro, California
The Dancing Waters Club
Opening Acts: Exit, White Noiz
Archived: Video
SET LIST:
Blond Alert
Hit the Road
(No More) Suffering In Silence
Cinderella (In Black Leather)
Damnation
Bewitched
The Chosen Ones
Nervous Wreck
Hell On Wheels

This show was billed as the band's First Year Anniversary show. Peter announced from the stage, "It's been a long year." (photo courtesy Punky Peru)

Around this time WITCH signed a management contract with Tapestry Artists Management Company out of Woodland Hills, giving this new company virtually complete control of the band. Timothy J. Heyne and Steve Mazin, along with Jennifer Perry, now represented WITCH. Aside from booking shows and rehearsal time, Tapestry's main job was to secure a recording contract for the band. Recording sessions earlier in the year--completely financed by the band--had produced six finished songs, and a self-produced e.p. entitled
THE HEX IS ON
was planned for release later in the summer. Tapestry's plan was to press the e.p. and then shop the finished product to the major labels. At right is the band's first-and-only Tapestry Artists Management press photo.
June 15, 1984
Hollywood, California
The Troubadour
Opening Acts: Invaders, Blackstar
Just before summer an article about WITCH appeared in World Metal Report magazine. It mentions that their album will be released by "early summer," and that it will include the songs "Damnation," "Cinderella Dressed In Black Leather," and "The Hex Is On You" (a song with this title is not known to exist, so this could simply be the reporter confusing the name of the album--
THE HEX IS ON
--with a song title).
June 16, 1984
4418 Sunswept, Santa Ana, CA
Backyard Party
The day following their massive show at The Troubadour, WITCH played a very unique gig. They were invited by a female friend to play her 16th birthday party at her friend's house in Santa Ana. WITCH--with full P.A. system, lights, foggers, drum riser and even fire cannons--loaded in to the backyard of the home and set up on the patio. It's the only time the band ever played at a house party. The birthday girl, Somer P., recently contacted us and had this to say about the gig: "My birthday party was awesome! I remember flashes of it (WAY too much to drink!!!) Very loud and obnoxious! I remember the guys kept giving the band more money to play longer. I think they kept giving them 100's. I will remember that party forever!!!! Love ya--Somer." Contractually WITCH were not allowed to book their own shows or play "sub-par" shows like this, so they tried to keep the gig a secret from Tapestry. However, it remained a secret for less than a day and Tapestry threatened to end their relationship with the band.
June 30, 1984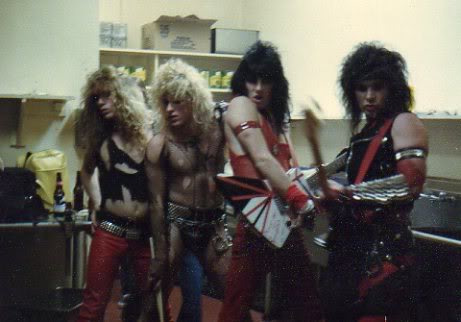 Anaheim, California
Radio City
Opening Acts: Blitzkrieg, Invaders
Archived: Audio
SET LIST:
"Pricking Of My Thumbs" intro tape
Blond Alert
Hit the Road
(No More) Suffering In Silence
Cinderella (In Black Leather)
Damnation
Bewitched
The Chosen Ones
Ronny Guitar Solo
Nervous Wreck
Hell On Wheels
1:45
Wet N Wild
Another First-Year Anniversary show, the band passed around bottles of champagne to the crowd before the encore. The band is pictured above in the Radio City kitchen, waiting to take the stage. (photo courtesy Punky Peru)

For years it was believed that WITCH played in San Francisco with LAAZ ROCKIT on July 14. However, it has been proven that that show actually took place on September 14 (see show listing below). It does not appear that WITCH played San Francisco in July at all. This means WITCH did not play a show anywhere between June 30 and July 28. It seems highly unlikely that the band would take a full month off during the summer of the biggest year of their career--and on the eve of their debut release--but no fliers, BAM ads, or other gig documentation can be found for this period.

On July 26 the band's debut e.p.,
THE HEX IS ON
, is released on O.T.T. Records in America, and distributed by Important Record Distributors. Recorded at Sunset Sound Studios in Hollywood, and Sound Affair Studios in Santa Ana, the e.p. is comprised of songs recorded in July of 1983 and March of 1984.
TRACK LIST:
Damnation
Bewitched
Cinderella (In Black Leather)
Nervous Wreck
Wet N Wild
Album cover model Mitzi Gorder met the band earlier in the year at a club in Westminister called
Joshua's Parlour (later The Marquee and currently The Hustler Club). Punky and Ronny devised the concept of the album cover: a metal babe with very long blond hair being clawed at by the band at her feet. Important Records liked the idea of a female on the cover, but they wanted to see the front of her. The band stuck to their guns and when the photo session took place at David White's Orange County studio (at left), only photos from behind were taken. See the RECORDS section for more details on this release.
The question has often been asked why--if WITCH had such a huge following and made so much noise on the So Cal club circuit--why didn't they end up getting signed to a major label? For a band that was a better MOTLEY CRUE than MOTLEY CRUE ever was, why didn't WITCH have a similar career? Depending on who you ask, the answer seems to come down to timing and management. WITCH had signed a management contract with Tapestry Artists, giving them complete control over the band. However, Tapestry needed WITCH just as much as WITCH needed them, and Tapestry was depending on WITCH to launch their management business into the big time. Therefore, Tapestry was not about to let WITCH get signed to a small deal; they were going for all or nothing. Brian Slagel from Metal Blade Records loved WITCH, and he wanted to sign them and release THE HEX IS ON. Not realizing he wasn't in the position to make business decisions, Punky told Slagel WITCH would sign with Metal Blade, and the only thing left to do was sign the contract. However, Slagel wasn't offering much money, and when Tapestry found out about Punky's so-called deal with Slagel they called it off. Metal Blade was furious and swore they would never again have anything to do with WITCH, and this was a crushing blow to WITCH's reputation and marketability. Tapestry told the band not to worry because a deal with Capitol, who had signed WASP the previous year, seemed eminent. But that deal, too, fell through, so Tapestry made the fateful decision to self-release THE HEX IS ON and hope that a deal would come from that. No deal ever did.

July 28, 1984

Hollywood, California
Stardust Ballroom
Headline Act: SIN
Opening Acts: Terriff, Savage Grace


Billed as the "Metal No-lympics" show in response to the Olympics being held at the time in Los Angeles. This is the infamous show where WITCH set the ceiling of the Stardust Ballroom on fire
(poster at right courtesy Rik Fox Archives)
. At the end of the first song the flame pods went off on cue, but the flame columns were so strong that they blasted the ceiling tiles some ten-feet above the stage. According to eyewitness accounts either the Fire Marshal or a police officer ran on stage and stopped the band. No fire extinguishers were available, so the official and a few crew members pulled down the burning tiles and threw them out the back door. About five minutes later, with the fire out (and the ceiling destroyed), WITCH was allowed to continue. Unfortunately, photos from WITCH's performance are not known to exist, but
SIN photographer Mike "Ozzy" Gibbens did manage to document the destruction. The photo at left shows SIN (along with Frank Starr on vocals: he would go on to form the now-legendary rock band THE FOUR HORSEMEN, but tragically, he died following a motorcycle accident on June 18, 1999) in performance--after WITCH had played--with all of the charred ceiling tiles removed.
August 3, 1984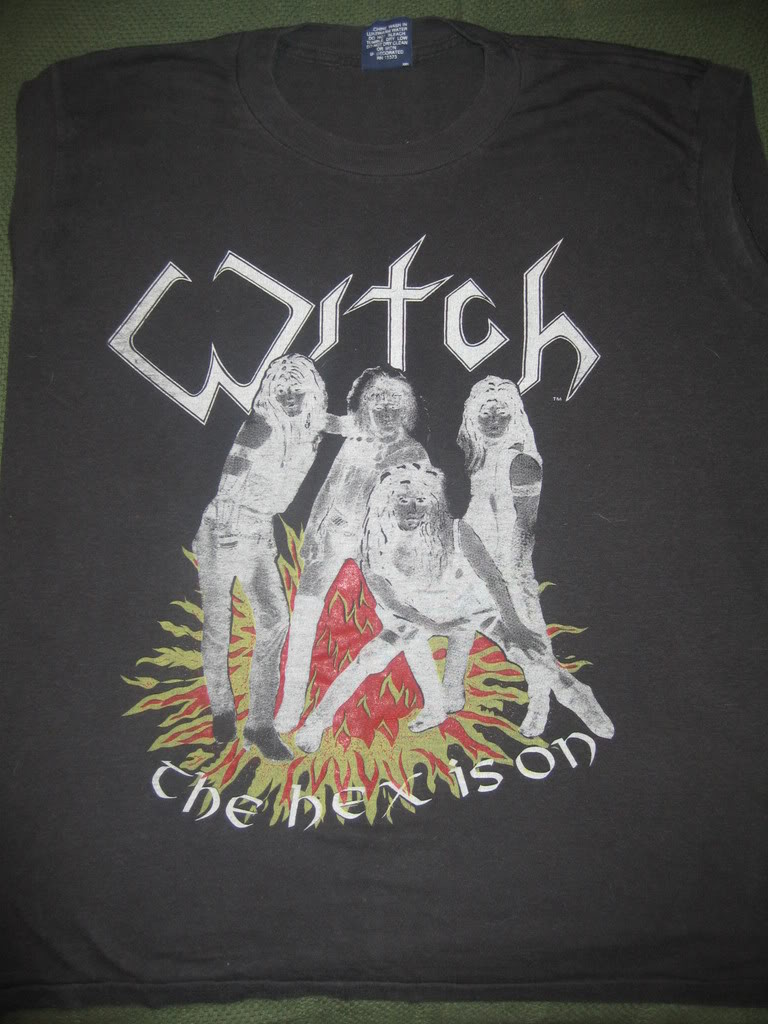 San Pedro, California
The Dancing Waters Club
Opening Acts: Axis, Sacred Child
In 2007 Jim found a WITCH t-shirt up for bid on ebay. He won the auction and thought the shirt was a bootleg. However, the shirt appears to be legit. The entire image is a negative of the original design, complete with a TM (trademark) sign underneath the "h." The shirt itself is a Jerzees brand (identical to the gray t-shirts), and is sleeveless, just like the initial run of known
THE HEX IS ON
shirts. No one in the band, including Punky, remembers this shirt being produced, but it's very possible a small run were printed and paid for by Tapestry Artists when the gray t-shirts sold out. That being the case, these shirts would've been available during the summer of 1984.
August 10, 1984
Anaheim, California
Radio City
Opening Acts: Deceiver, Mona Lisa
August 31, 1984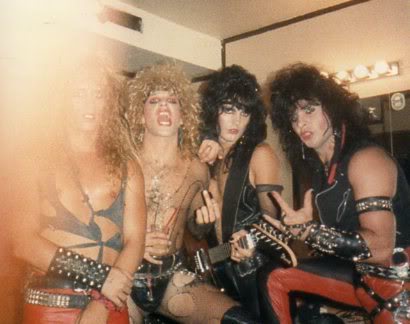 Reseda, California
The Country Club
Opening Acts: Stryper, Poison
Another very big and important show for the band. A full page advertisement, including the front cover of the album and a photograph of each band member, appeared in the August 24 issue of BAM Magazine. For the first and only time,
THE HEX IS ON
album cover model Mitzi Gorder signed copies of the album at the band's merch table. Openers STRYPER were on the verge of international stardom, but POISON were still virtual unknowns at the time. According to Punky the capacity crowd was rowdy and belligerent, with WITCH fans and STRYPER fans fighting each other throughout the night. POISON vocalist Brett Michaels somehow got caught up in the mayhem, and during the middle of their set he was pulled offstage and into the crowd by unruly fans. He dislocated his shoulder and the band was unable to finish their show. Later, as WITCH's intro tape rolled, Punky was busy with a young lady backstage. He thought he had plenty of time to get to the stage but he was wrong. Steve from Tapestry Artists grabbed Punky away from the girl and rushed him to his drum kit, but the intro had long since finished. The smoke-filled stage stayed dark while the tape was rewound and restarted. Update January 31, 2012: a person at this show, Mike N., remembers the events of this night like this: "
I was at the August 31st, 1984 show at the Country Club. I was 14 and remember it as one of the fun shows as a kid. Stood right up against the stage. There was no "mayhem" or fighting between Stryper and Witch fans. It was a fun, mellow crowd actually. In regards to Bret Michaels, there was not a lot of people there when they went on. The front area was not even half filled. No one knew who they were then and Bret actually hit the end of the stage while hopping around and slipped off. Instead of the few people there trying to catch him, they just moved and he hit the floor. The stage at the country club was higher than most and he took a hard landing. He crawled up on stage and just went off on the side. The band finished the song with no singer and then the curtain dropped. Their set list was in front of me and they were on the third song when it happened. Obviously not as glamorous but it is the way it happened." Researching events that took place in clubs nearly 30 years ago is not an exact science, and this show is another example of how people can have differing recollections. Certain things are opinion (the "mood" of a crowd, for example, can be totally subjective), while other things can only be factual (Brett either was "pulled" off the stage, or he simply fell). It's likely Punky and WITCH were not even in the building when POISON played (they seldom, if ever, watched opening bands), and the account of Brett's accident was reported (and embellished) by a friend or crew member when the band arrived. My thanks to Mike N. for setting the record straight.
September 5, 1984
Huntington Beach, California
The Golden Bear
Opening Acts: Vengeance, Ruthless
Over the summer Punky and Tommy Lee hung out quite a bit at the HUSTLER Mansion in Hollywood. HUSTLER was planning a feature
article on the Southern California heavy metal scene and they were looking for a visually interesting local band to photograph. Tommy recommended WITCH to publisher Larry Flynt, and he asked the band to come to the HUSTLER offices on Santa Monica Boulevard the next day for a test shoot. However, because of the short notice, only Punky and Jim were available to attend. They suited up in full concert makeup and costume and made their way to Althea Flynt's office on the top floor. There they were photographed by a staff photographer and WITCH got the gig (unfortunately these test pictures have never seen the light of day). On September 13 WITCH loaded-in their gear and stage show to a warehouse in Culver City for the photo shoot. Local metal fans were invited to attend as extras, and HUSTLER girls were placed at the front of the stage. The photo (at left) appeared in the April, 1985 issue and accompanied an article about the excesses of the L.A. metal scene.

September 14, 1984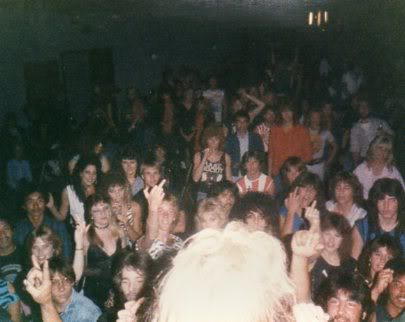 San Francisco, California
The Stone
Headline Act: Laaz Rockit
Opening Act: Death Angel

Although a club headliner in Southern California, WITCH were third on the bill at this, their first show outside of Southern California and it got off to a rough start. All four members of METALLICA were at this gig, and Punky remembers being laughed at by them in the dressing room. The mid-1980's San Francisco thrash metal scene spawned by METALLICA included such bands as EXODUS, POSSESSED, DEATH ANGEL, and tonight's headliner LAAZ ROCKIT. Hollywood metal bands like WITCH weren't exactly welcome, and the San Francisco crowd came prepared to hate WITCH. During their opening song, WITCH was bombarded with boos, beer bottles, cans, and anything else the crowd could get their hands on. But WITCH wasn't about to back down. A kid in the front was leaning over Jim's monitor and flipping him off. Jim walked toward him and planted his boot spike directly into the kid's forehead, knocking him unconscious. The kid's friends tried getting on stage and go after Jim but they were thrown out by security. With the first song complete, Punky grabbed a beer bottle out of mid air and broke it over his own head, causing him to bleed. At this point the crowd began to turn; these guys from L.A. were tough and weren't about to take any crap. By the middle of the set the crowd was totally on their side, and by the end it was sheer mayhem inside the club. When the band left the club and headed back to their hotel, car loads of fans followed them and people lined their floor of the hotel. The photo above of the San Francisco crowd was taken by Punky from atop his drums.
September 21, 1984
Anaheim, California
Radio City
Opening Acts: Ruthless, Suspect
The flyer for this show announces that the first ten people at this gig and at the October 5 Dancing Waters show will receive an autographed copy of THE HEX IS ON, and that albums will be on sale at both shows. The flier also says "Back from San Francisco and ready to shred."

October 5, 1984
San Pedro, California
The Dancing Waters Club
Opening Acts: Borrowed Time, 21st Century
Around this time Punky had a pet rat named Sportster, and he lived the rock n roll life. His baby sitters included Heather Locklear, and he was Lita Ford's studio mascot during the recording of her LITA album. Sportster also had the ability to escape from his cage, jump off the table, ascend a full flight of stairs, and climb into bed with Punky--much to the dismay of whoever might be sharing the bed with him.

October 24, 1984
San Pedro, California
The Dancing Waters Club
Headline Act: Exciter
Opening Act: Megadeth
The fact that WITCH opened for EXCITER and MEGADETH has been confirmed by many different sources, including Jim, Punky, and The
Waters Club 1984 sound engineer. But the exact date has remained elusive until now. According to two different MEGADETH "historians," Dave Mustaine and company only played The Waters Club on one occasion, and that was on this date. It makes sense with EXCITER's schedule, who were on tour in the U.S. at the time supporting their second album, Violence and Force, and it also makes sense with WITCH's schedule. (update June, 2010: metal fan Doug Klein was at this show, and he was kind enough to send me a photo of the only known poster still in existence for this gig. My thanks to Doug! And update October 2020: two print ads for this show have been found by GUNS n ROSES historian Gavin Barnard which bill this show as "HELL ON EARTH". See the FLIERS section.) Although they had headlined at this club just three weeks earlier, the band's management took this opening slot in order to audition a second guitarist. No one in the band--particularly Ronny--wanted a second guitarist, but Tapestry thought it might round out their live sound. So, to appease Tapestry, Ronny brought in a guy named Danny Blaze. He had no live experience at all and wasn't very good, and that was the whole idea. In the middle of the show Jim got so fed up that he told Blaze to get off the stage. Not knowing what had happened, Peter followed Blaze and told him to get back out there and play. Jim again threw Blaze off the stage and Peter got the point. Tapestry never again asked WITCH to add another guitarist. Now, that's not all the drama that happened at this show! After soundcheck WITCH was told by EXCITER's crew that they were not allowed to use pyro and half their lights would be pulled. WITCH stage manager Marty "Moose" didn't take this very well. Just before WITCH took the stage Marty screwed three 2x4's into EXCITER's dressing room door, effectively locking them inside. WITCH went onstage and did their whole show, while EXCITER spent 20 minutes literally breaking down the door, doorframe, and 2x4s. When WITCH took the stage and began their first song, Punky realized that his snare had been slashed. He struggled through the opening song before a replacement snare was brought in from the truck. He blamed Dave Mustaine and MEGADETH because EXCITER were conveniently locked away. So when MEGADETH took the stage WITCH and their crew went to work on Mustaine's rented equipment van. They flattened all four tires and used pipes to break out all of the van's windows. All this happened while Danny Blaze was still in the club! WITCH took off, leaving Danny behind and unaware of what had just happened. When MEGADETH saw their van they chased down Blaze and beat him until security broke it up.
October 31, 1984

Reseda, California
The Country Club
Headline Act: Grim Reaper

Photographs of WITCH from this show were published in the March, 1985 issue of Japan's BURRN! magazine, along with photos of LONDON and ODIN and an article about the burdgeoning L.A. metal scene. In these photos Ronny is wearing a blue leather suit that he purchased from Don Costa for $50. Recently a pro-shot video surfaced of headliner GRIM REAPER from this show. With multiple cameras and sound board audio, the recording is excellent. It's possible that WITCH's set was also recorded (although the band was never asked if they'd like to purchase it), but to date a video has not surfaced. Anyone??

November 2, 1984
Costa Mesa, California
The Concert Factory
Opening Act: Aftershock

November 17, 1984
Hollywood, California
The Troubadour
Opening Acts: Medusa, Pulse, Agent Steel

November 30, 1984
Anaheim, California
Radio City
Opening Acts: Sylum, Jekyll and Hyde
An ad appeared in BAM Magazine #195 announcing this show with POISON as the opening act. However, based on an ad in BAM #196, it appears that POISON opted out of this Radio City gig to appear with LEATHER ANGEL at the Concert Factory in Costa Mesa.

December 15, 1984

San Francisco, California
Rock On Broadway
Co-Headline Act: Hellion
Opening Act: Scanner
A print ad exists for this show listing New York band TALIS as the headliner with WITCH opening (see the FLIERS section). However, it has been verified that WITCH and HELLION co-headlined and TALIS did not play. At right is the Rock On Broadway marquee (photo courtesy Ronny Too) taken as the band arrived for load in. Ronny's future band MAX HAVOC played the night before.

December 17, 1984
Palo Alto, California
Keystone Palo Alto
Co-Headline Act: Hellion
With a day off between bookings with HELLION, it's very possible that WITCH played a show of their own on the 16th; however, this has proven impossible to research. After winning-over an angry crowd at their San Francisco show on September 14, WITCH returned to the Bay Area with fellow L.A. metal band HELLION for two more shows, and the crowd reaction was much more positive this time around. However, the band was kicked out of their hotel on the first day for trashing their rooms and throwing things out of the window (including the room's telephone). Punky's girlfriend was staying with a friend in Chinatown, so Punky and the boys stole their manager Jennifer Perry's car and set off to find her. They stayed with Punky's girlfriend that night and the next, then drove the equipment truck back to L.A. But, they never returned Jennifer's car to her, and she was left to track it down on her own somewhere in Chinatown.
December 22, 1984
San Pedro, California
The Dancing Waters Club
Opening Acts: Thrust, Destruction, Delirium, Sykes

For Christmas this year each band member received from Tapestry Artists $100 and a bottle of Jack Daniels.

December 30, 1984
Westminster, California
Joshua's Parlour
Opening Acts: Onslaught, Oasis

In July of 2021, a member of opening band ONSLAUGHT posted a flier from this show on his social media (see the FLIERS section). Up until that time this show was completely unknown to me and everyone in WITCH, and Punky stated he has absolutely no recollection of playing this club in Orange County until years later, after the club had been rebranded as The Marquee. Yet another example of a "lost" show being found, this time a mere 37 years later. Thanks to ONSLAUGHT for posting!