2021

October 23, 2021
Santa Ana, CA
Stages
Opening Acts: Mysteria, Black Star Sinner, Noppen, Thunderstruck

SET LIST:
The Real Me
(No More) Suffering In Silence
Black Magic
Damnation
Bewitched
Playing In The Rain
Hit The Road
1:45
Pay The Due
Take Me Away
Toys In The Attic
After a year off the Jezebel's Resurrection Party returned in 2021 with WITCH headlining. The venue, Stages, is the rebranded name of Malone's in Santa Ana, where all Resurrection shows have taken place. Punky, Ronny, Jim and Peter opened the show with a brand new cover song, THE WHO's "The Real Me." Famed photographer Don Adkins photographed the show, as did longtime friend Dave White (who shot the album covers for THE HEX IS ON and NOBODY SLEEPS, as well as the photo above right).
Two photos below by Kelsey Boyer.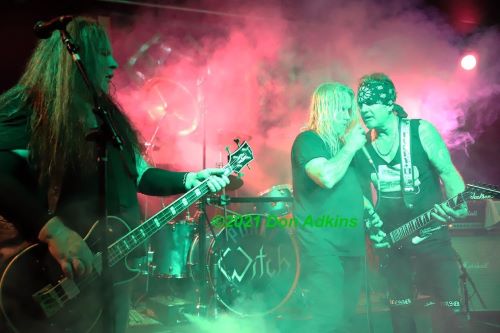 photo by Don Adkins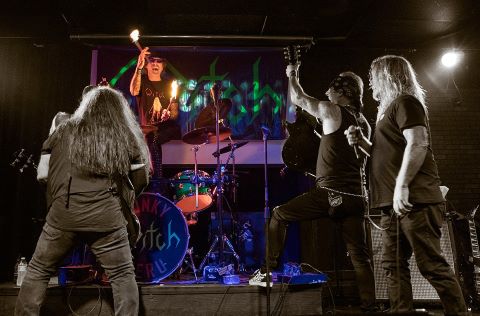 photo by Don Adkins

December 11, 2021

Santa Ana, CA
Stages
Opening Acts: Dark Thor, Rubber Band, Revolution 69, Ran Radio, Warpath, Cross Faded, Pandemic Unleashed
Headline Act: The Iron Maidens

SET LIST:
Cinderella (In Black Leather)
1:45
Real Me
Damnation
Black Magic
Toys In The Attic
Take Me Away
WITCH returned to Stages for an opening slot with THE IRON MAIDENS (
photo at right by Sarah/courtesy Punky Peru
). Their second show of 2021, this marks the first time since 2009 that the band played two or more shows in a single year. Without torches, fog, or banner, the band hit the stage at 8:30pm and ripped through seven songs in 30 minutes, including covers by THE WHO and AEROSMITH. They also threw it back to 1987 by opening the show with Cinderella (In Black Leather).
photo by Stephanie/courtesy Punky Peru
photo by Sarah/courtesy Punky Peru