2022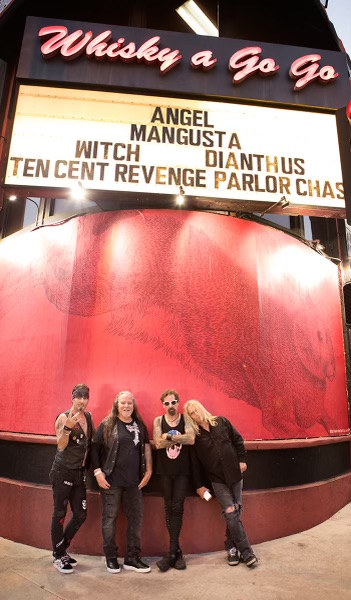 June 11, 2022
Hollywood, CA
The Whisky
Headline Act: Angel
Opening Acts: Mangusta, Dianthus, Ten Cent Revenge, Parlor Chase

SET LIST:
The Real Me
1:45
Cinderella (In Black Leather)
Black Magic
Take Me Away
Toys In The Attic
(photo by Dave White)







WITCH opened once again for ANGEL at The Whisky on the Sunset Strip. Jim, Ronny, Peter and Punky took the stage at 8:30pm. They opened with THE WHO's "The Real Me," and ended their set with AEROSMITH's "Toys In the Attic." A quick 6-song, 30 minute set with only four original songs, it was probably the shortest show of their career.
In mid-October Punky and WITCH booked a show at The Tiki Bar in Costa Mesa for December 9 opening for Andy McCoy of HANOI ROCKS. Although Peter has played The Tiki Bar with his solo bands in the past, this will be WITCH's first show at the venue.
On October 28, record label Numero Group in Chicago released a 1980s L.A. Metal compilation entitled BOUND FOR HELL ON THE SUNSET STRIP. In the planning stages since 2012,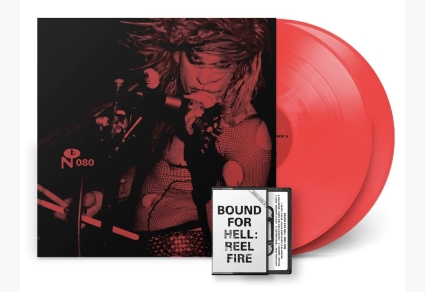 shelved in 2018, and then resurrected in 2021, the compilation is a comprehensive deep-dive into the early, post-Van Halen/pre-Guns N Roses era of the Southern California Heavy Metal scene. Punky was the first person contacted by the label back in 2012 to get the ball rolling on the whole project. WITCH's contribution to the stunning box set (available on red vinyl LP, white vinyl LP, black vinyl LP, and digipak CD) is "Cinderella (In Black Leather)" taken from THE HEX IS ON. The box set features a 1983 photo of Punky on the front cover, and the hardcover book includes band photos, fliers, and tickets from early WITCH gigs. Other bands on the release include STORMER, L.A. ROCKS, MAX HAVOC, JADED LADY, LEATHER ANGEL, STEELER, LIZZY BORDEN, SIN, BLACK N BLUE, BITCH, ROMEO, VVSI, HELLION, ANGELES, KNIGHTMARE II, REDDI KILLOWATT, ARMORED SAINT, ROUGH
CUTT, LISA BAKER, and ODIN. The limited edition red vinyl edition also comes with a bonus cassette. A truly terrific document of the early metal scene, the box set was championed by Adam Luksetich, who painstakingly put the whole thing together with Numero Group. On the day of the box set's release--October 28--Adam and Numero Group arranged a record release party at The Rainbow in Hollywood. All participating band's were invited to a party upstairs. Punky and Ronny attended. At left (photo courtesy Punky Peru) at The Rainbow is Adam Luksetich, photographer Kevin Estrada (who contributed many of the photos in the box set's book as well as to this website), Punky, and publicist Katherine Turman (who wrote bios and liner notes for the compilation). "Gig" fliers, laminates, and posters were made for the party. BOUND FOR HELL ON THE SUNSET STRIP shirts were also produced.