1985
January 11, 1985
WITCH Canceled
Hollywood, California
The Troubadour
Opening Act: Warrant, Onexcel
For the second of only three times in their career, WITCH had to cancel an advertised show. Punky was involved in a motorcycle accident just days before this show, forcing the band to cancel. It is not known if another headliner was brought in.
January 18, 1985
San Pedro, California

The Dancing Waters Club
Opening Acts: Ruthless, Chaser, Arch Angel
January 25, 1985
Anaheim, California
Radio City
Opening Acts: Hyde, Lace, L.A. Guns
The flyer for this show reads "Punky is back!"

February 7, 1985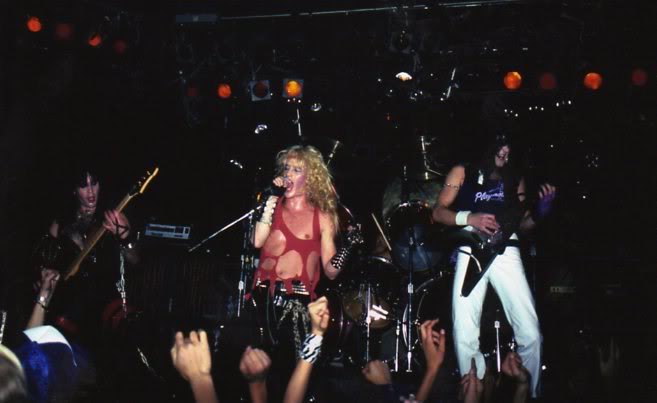 Reseda, California
The Country Club
Headline Act: Malice
Opening Act: Lace
Archived: Video
SET LIST:
"Pricking Of My Thumbs" Intro Tape
Hit the Road
(No More) Suffering In Silence
Too Young For You
Damnation
Spinning
Running Scared
1:45
Hell On Wheels
Cinderella (In Black Leather)
Wet n Wild
A videotape of a WITCH show surfaced recently that was simply labeled "'84." However, in watching the tape, a few clues have led me to believe the tape is from this concert: the venue is obviously the Country Club; there is a drum kit set-up behind Punky, so WITCH is not the headliner; and the show is old enough to include "I'm Spinning," but new enough to include "Too Young For You" and "Running Scared," which Peter announces as "a new one." There was the thought that the tape could have been from the October 31, 1984 Country Club show where the band opened for GRIM REAPER, but existing pictures from that concert show Ronny wearing a different costume than on the video, and on the tape Peter makes no reference to Halloween. Update 2/17/08: Pictures taken at this February 7, 1985 show by noted photographer Don Adkins (above) have surfaced and prove the "mystery" video is indeed from this night.

February 15, 1985 (possible show)
San Pedro, CA
The Waters Club
Opening Acts: Luce, Pleazer

Although no other documentation exists, an ad depicting this lineup for this night appears in the "Live Music Listings" of BAM Magazine issue #200. However, in the very same issue, a second "Featured" ad for The Waters Club lists an entirely different concert for the same night: VENTUS, LIQUID EARTH, and CHAMBERMAID. This is very unusual. It is possible that WITCH had placed a "hold" for this date but then for some reason backed out, but it's also possible that WITCH played. Until further documentation is found, this show will not be included in the final concert stats.
February 22, 1985

Hollywood, California

The Troubadour

Opening Act: Hostage, Martial Law, Kevin Lawrence, Pulse
The flyer for this show reads "The first glam death metal band. Leather, fishnets, and sex returns!" Opening band KEVIN LAWRENCE has a very interesting history: from March to May, 1983, Axl Rose was the singer for a band called RAPID FIRE, his first band in Hollywood since moving to California from Indiana. RAPID FIRE's guitarist and founder was Kevin Lawrence, who, according to later interviews, always viewed RAPID FIRE as a solo project since he called all the shots for the band. Once Axl quit to form his own band, Kevin and RAPID FIRE carried on with multiple lineup changes--including at least one gig with guitar legend Steve Vai--but Kevin eventually dropped the RAPID FIRE moniker and named a new lineup after himself.

March 1, 1985 (4pm and 8pm Shows)

Phoenix, AZ
The Mason Jar
Opening Act: Lynx

March 2, 1985 (4pm and 8pm Shows)
Phoenix, AZ
The Mason Jar
Opening Act: Lynx

Although the exact dates remained unknown for decades, GUNS N ROSES researcher Gavin Barnard tracked them down in May 2019 (pictured at right is a show advertisement from the ARIZONA REPUBLIC newspaper). WITCH performed four shows over two days at this iconic venue, and were the last band to play there while it was still called The Mason Jar (as mentioned in the ad, the club closed starting on Sunday March 3 for remodeling, at which time the club was renamed The Jar). As was the normal schedule for headlining bands at this club, a 4pm "All Ages" show was played each day, along with an 8pm show for 21 and over. All four shows were sold-out, and local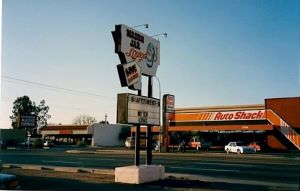 Phoenix band LYNX w
ere the openers. Although Tapestry Artists
--the band's management at the
time and the financiers of the Arizona trip--had given them money to stay in a hotel, the band and crew ended up staying at the
homes of waitresses from the club.
WITCH never played outside of Southern California again. It should be noted that in my original research for this site, band interviews led me to the conclusion that WITCH had played seven shows over three days at this club. However, the discovery of the ad above, combined with the fact that the club was indeed remodeled, renamed, and a new marquee installed reflecting the name change, have all led me to conclude that shows on Sunday March 3 did not happen. At left is the last known photo of the original Mason Jar marquee, photographed by Ronny Too on March 1 during load-in.

March 9, 1985

Anaheim, California
Radio City
Opening Acts: Jekyl and Hyde, Traitor

The flyer for this show reads "Back From Tour And Ready To Kick Ass," in reference to the four shows in Phoenix the previous weekend. At right is the first picture I ever took of WITCH, March 9, 1985. Opening band JEKYL AND HYDE is the same band that Jim played bass for in 1983 just prior to joining WITCH, and this band also included future WITCH guitarist Davin St. John.
Around this time original POISON guitarist Matt Smith quit the band. Vocalist Brett Michaels asked Ronny to audition but he declined: WITCH were going to make it.

March 30, 1985
Pomona, California
Pomona Valley Auditorium
Headline Act: Great White
Opening Act: No Sugar
On March 31, Punky marries for the first time at the Chapel Of Love in Las Vegas.

Around this time Punky and original WITCH roadie Marty "Moose" Finkelstein were advertised as being the D.J.s on Tuesday nights at Club Rocket. This was a dance club located in the same strip mall as Radio City.

April 6, 1985
San Pedro, CA
The Waters Club

April 20, 1985
Hollywood, California
The Troubadour
Opening Acts: Early Warning, The Claw
SET LIST (partial):
"The Stripper" intro tape
Damnation
Too Young For You
Wet n Wild
1:45
A review of this show appeared in a German fanzine, and that's where the partial set list comes from. Interestingly enough, it was written by an American, Benjie Gordon, whose father was an A&R rep at Capitol Records and had a hand in signing WASP. Gordon was also friends with TYTON vocalist Shaun Damien Barusch, who would begin acting as WITCH's manager by summer. The following year, Gordon would run TYTON's fan club. KERRANG! MAGAZINE writer Malcolm Dome was in Hollywood this weekend to review the VENOM/SLAYER show at the Palace the night before (April 19). With a night off from the tour on Saturday, Malcolm, along with VENOM leader Cronos, VENOM manager Eric Cooke, and others, found themselves at tonight's WITCH show at The Trouabdour (unfortunately, however, Mr. Dome did not review WITCH for KERRANG!). Malcolm "loved what they did" and enjoyed their "spandex-clad, sybaritic sensibility." Cronos, on the other hand, "was so appalled by them that he spent the whole of their set leaning over the balcony, trying to goad some sort of comment out of them, anything which could allow him to let loose and give them a right old Geordie smacking. He hated them." To recap: at this point in their career WITCH had been publicly ridiculed by SLAYER, METALLICA, EXCITER, MEGADETH, and now VENOM. WITCH should have been huge.

The April issue of HUSTLER featured an article by Lonn Friend entitled "Rocks Outer Limits: The Loud & Lude World Of Heavy Metal." The staged photograph was taken on September 13, 1984, in a warehouse in Culver City. The topless girls in the front row were HUSTLER models, and anyone with their clothes on were fans invited to the shoot.

April 27, 1985
Anaheim, California
Radio City
Opening Acts: Deceiver, Thrasher


May 10, 1985
Long Beach, California
Fender's Ballroom
Headline Act: Yngwie Malmsteen's Rising Force
Opening Act: Lixx Array

This was the first show in the U.S. for YNGWIE MALMSTEEN'S RISING FORCE.


May 11, 1985
Glendora, California
The Timbers
During a 1988 rehearsal, Peter confirmed that a ballad entitled "I'm On My Way" was performed at this show and other shows during this period. Punky confirmed the song was dropped by the end of June. Timbers management forced Punky to wear shorts over his fishnets and G-string. They were afraid of indecency issues with Glendora police.
May 17, 1985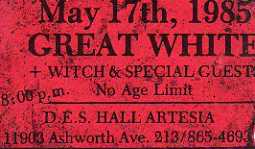 Artesia, California
D.E.S. Hall
Headline Act: Great White
Opening Act: Strait Shooter

WITCH opened this show with GRAND FUNK RAILROAD's "Are You Ready," and it's the only known performance of the song. Short and direct with just a verse/chorus/verse/chorus, the song inspired WITCH to write "Welcome On the Night," a song the band would open with for years to come. Fellow Orange County Metal band RUTHLESS was advertised as an opening band, and the entire band was present while the other bands sound checked, but for unknown reasons they did not perform.


On May 25 a belated wedding reception was held for Punky at V.F.W Hall in Covina. In attendance was Tawny Kitaen and members of MOTLEY CRUE, along with Ronny, Peter, and Jim, Punky's long-time friend and WITCH photographer David White, and Brett, C.C., and Rikki from POISON.
June 1, 1985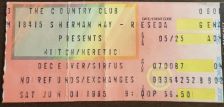 Reseda, California
The Country Club
Opening Acts: Heretic, Deceiver
This show was billed as WITCH's 2nd Anniversary Show. Two years of hashing it out in the clubs and still no label interest. (Ticket stub at right courtesy Gavin Barnard)

Around this time the management contract between WITCH and Tapestry Artists was dissolved. Timothy J. Heyne continued on and prospered in the management business, and is currently working with CINDERELLA and NICKELBACK, among many others. Steve Mazin was an attorney, and he and Tim remained close friends. But in 2005, a terrible fate awaited the life-long friends. In 1999 Steve had represented a neighbor of his in court and the case ended badly. On June 1, 2005, Tim and his wife were returning a boat to Steve's house and the three were talking in the front yard. Suddenly, the disgruntled neighbor approached. He had held a grudge against Steve since 1999 and now he came for revenge. He pulled a gun and began shooting. Tim's wife and Steve were killed instantly. Although shot three times in the chest, Tim was rushed to the hospital and eventually recovered. The gunman immediately fled the area and was on the loose for sixteen more hours. He killed a police officer, broke into a home and killed another woman, and finally fled to a local Wal-Mart in search of more ammunition. Cornered in the store, he killed himself.

June 15, 1985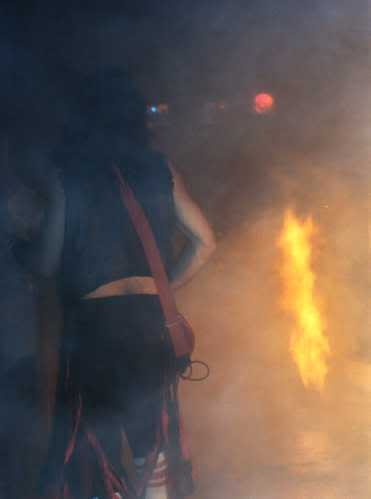 Anaheim, California
Radio City
Opening Acts: Sylum, Rysk, DeBest
Another 2nd Anniversary Show. As they had done the year before, the band shared bottles of champagne with the audience before the encores. During "Wild Thing," Jim forgot the pyro cues and was standing over a flame pot as it went off (manned by long-time WITCH roadie and pyro technician Rich Paris). The column of flame went up his back and caught his hair and costume on fire. Another crew member, "Happy" Meyers, ran on stage and put the fire out, and the band never missed a beat. The picture at right, although taken two months later on August 31, shows another close call for Jim. Of the classic lineup, Peter remains the only WITCH member who did not go up in flames on stage. Update April 9, 2014: For years it was speculated that this was the show an unknown GUNS N ROSES closed, but further investigation has proven this to be inaccurate. Punky remembers being approached on the day of a WITCH show by Axl and Tracii Guns, who asked if their new band could close the night. However, Tracii was out of GnR by June. If--if--GnR closed a show for WITCH, current speculation is that it did happen at Radio City, but it had to have happened sometime between March and the end of May. This mystery gig will remain a mystery until further evidence can be found.

Around this time WITCH began working with Shawn Damien Barusch. Shawn had been roommates with Punky up until just a few months earlier. Originally from Texas, Shawn was the singer and founding member of TYTON, a band that would eventually release an album on Enigma Records in 1987. He assumes the role of WITCH's manager for the summer.

June 29, 1985
Hollywood, California
The Troubadour
Opening Acts: Sixty-Nine, RUOK

Following this show Punky was kicked out of his own band. According to Punky, through the influence of their manager, Peter, Jim, and Ronny decided that Punky was pre-occupied with other things and wasn't devoting all of his time and energy to WITCH. Ronny was particularly insistent about getting rid of him, purely from a business point of view: the band simply could no longer function with Punky. In the ensuing days the band relied on manager Barusch to find a replacement, and another Texan, Joey Capizola, was recruited to play drums. He flew from Texas to Orange County in early July and rehearsals began for the band's summer dates. Punky quickly began to assemble another group, and he asked Peter to leave WITCH and join him. Peter accepted--knowing WITCH was dead without Punky--but Jim and Ronny persuaded him to stay. This was the beginning of the end for the first stage of WITCH's career.

August 2, 1985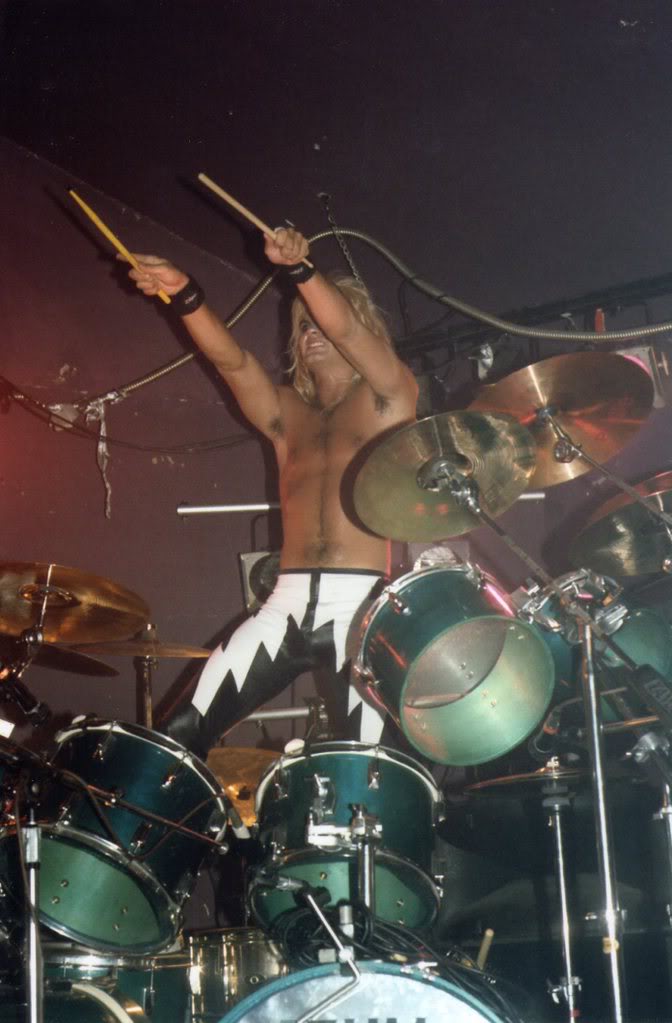 Anaheim, California
Radio City
Opening Act: Crystal Axe
Archived: Audio
SET LIST:
"The Stripper" intro tape
Welcome On the Night
Keep the Light On
Too Young For You
Damnation
(No More) Suffering In Silence
1:45
Joey Capizola Drum Solo
Hell On Wheels
Wet n Wild


Joey Capizola's first show with WITCH. On the existing amateur recording of this show female
fans can be heard yelling "Punky" throughout the band's set. WITCH was clearly not the same without Punky, and the change did not go unnoticed by fans.
Immediately following WITCH's performance, I gathered the band together and brought them outside to take group photos. Aside from being my first 'official' WITCH photo shoot, these remain the only group photos with Joey in the band.
T
his show marked the final time WITCH played Radio City. In the early morning hours of November 3, 1985, the club burned to the ground. The last band to play Radio City was DARK ANGEL. Pictured above right is Joey at his first show.

August 31, 1985

Riverside, California
Prado Park
Opening Acts: Ruthless, Enticer, Scream, Power Squadron, Marauder, many others
Archived: Video
SET LIST:
Welcome On the Night
Keep the Light On
(No More) Suffering In Silence
1:45
Hell On Wheels
Wet n Wild

This was a very embarrassing show for WITCH. They were the headliners for this all day outdoor festival, billed as "Heavy Metal Marathon II." After drinking in the hot sun for hours, WITCH finally took the stage around 10pm. Their playing was sloppy and uneven, to say the least. To make matters worse, what no one knew was that another band, DAGGER'S EDGE, were going to close the show. But this group thought they were the headliners. There was definitely some tension between the bands and their crews as WITCH was preparing to take the stage; sort of a 'hurry up and play' vibe--something WITCH was not used to. Their girlfriends and fans were in the crowd chanting "DAGGER'S EDGE" throughout WITCH's set and, halfway through the show, someone pulled the power to WITCH's backline. Guy Hoffmann, bass player and songwriter for DAGGER'S EDGE, remembers it this way: "That day WITCH were a bit sluggish and we were missing Punky's antix. We were disappointed that this band we loved and looked forward to playing with seemed so mediocre (this after seeing them just kill many times before) on this evening. At no time did ANYONE in Daggers Edge ever disrespect WITCH or anyone at this concert. We, being on our best game at this time, having won a large band battle, supporting numerous national acts, and wanting to do well while playing with WITCH; we had a great performance! We had maybe 100-200 fans to see us, chanting, etc This, as well as the long day, bad sound, etc., may have compounded things in a negative light for Peter and the guys? WITCH was a great band and part of my life, as well. In fact, I remember a stripper there to party with our drummer who came on stage with Peter, flashed her "beaver," then abruptly left with Mr. Wabbit when he stormed off stage (figures!!!!!!)" Following "Wet n Wild," Peter walked off stage and quit the band. As DAGGER'S EDGE took the stage, the future of WITCH looked bleak. (Pictured above is Peter at Prado Park. Directly in front of the stage was a small lake--I guess you'd call it a moat--and during WITCH's set fans began jumping into the water and swimming up to the stage. Peter is cheering them on).

Another website claims that after Peter's departure, a female singer was brought in to replace him. This is absolutley not true. A female was never even discussed as a possible replacement.
The September 6 issue of BAM Magazine (#214) ran a small news blurb stating that "WITCH drummer Punky Peru has left the band. Tapestry Artists will no longer be affiliated with WITCH but will continue to represent Punky." In the pre-internet years news travelled slowly (especially information printed in magazines), and this was obviously three-month-old news. However, it's interesting to note that Tapestry vowed to continue working with Punky, although nothing more ever came of their partnership.
Around this time WITCH terminated their short-lived relationship with manager Barusch. Unfortunately, by firing Punky, the damaging effect on the band was irreversible.
September 21, 1985


Hollywood, California
The Troubadour
Opening Act: Snair

This was, by far, the worst show of WITCH's career, making their disastrous performance on August 31 seem like a high point. Peter was asked to rejoin the band for this show, but he declined. Not knowing they were getting WITCH without founding members Punky Peru and Peter Wabitt, Troubadour management had guaranteed the band upwards of $3,000 for this one show, so Ronny and Jim were not about to cancel. However, they decided it was going to be the end for WITCH. Posters and flyers were printed, advertising this as the band's Farewell Show. Through a connection with their current drummer, another Texan, Doug (last name unknown), was flown in to do the show. Unlike Peter's deep, gravelly, Steven Tyler-esqe growl, Doug had a high, Geoff Tate-type squeal. He was not the right fit for WITCH. On the day of the show the band rented a room at the Continental Hyatt House Hotel (otherwise famously known as The Riot House) to get dressed. That night, Ronny, Jim, Joey, and Doug, completely unrecognizable as the WITCH that had blown the roof off of the Troubadour so many times in the past, took to the stage in front of a handful of people. Unbeknownst to Jim and Ronny, Punky and Peter watched this show and all of its tragedy from the Troubadour balcony. During "Keep the Light On," Ronny became confused and started playing the riff for "1:45." The song was stopped in a muddled mess. Then, during "Wet n Wild," Joey threw his drumsticks into the crowd as drummers are want to do, only then realizing he had run out of drumsticks! Unable to play the song, Joey just sat there. Jim climbed atop the drum riser, fists clenched, and began screaming at Joey while waving his fists in Joey's face. Ronny, frustrated and knowing this was the end, simply laid his guitar on the Troubadour stage and walked upstairs to the dressing room. Realizing the show was over, Jim, too, stormed off the stage. Amid the sounds of Ronny's guitar feeding back, the two Texans slowly left the stage. I helped Ronny load his amps and guitars into the back of his white Nissan truck, and he was so angry at the whole situation that he didn't speak a word to anyone. WITCH, for now, was over.
It's interesting to note: due to the fact that Peter did not perform at this Troubadour show, no member of WITCH performed at every WITCH concert. Peter missed this one as well as shows in 2008 and 2009, Punky would eventually miss a total of four, Jim missed multiple shows at the band's inception, and following this Troubadour show Ronny would not return as a permanent member until 1988.

Following his short stint with WITCH, drummer Joey Capizola went on to join METAL STORM in his home state of Texas with guitarist
Shannon Hamm, who went on to form DEATH. Although never signed, METAL STORM enjoyed a fair degree of success in the underground metal scene and toured regularly until they disbanded in 1994. METAL STORM is pictured at right shortly before their breakup, with Joey second from the right (photo courtesy STATIC METAL)

On October 12, WITCH's former manager Barusch took his band TYTON into Paramount Studios in Hollywood to demo songs for their upcoming Enigma Records LP. I was working for TYTON at this time as their photographer, and I was present at this recording session. As the band loaded in, Shaun handed the engineer a 1" reel of tape and told him to "record over it." I asked what was on the 20 minute reel and he said "WITCH demos." The engineer cued up the tape and pressed play, and a studio version of "Keep the Light On" came out of the speakers. I couldn't believe it. At this time the only WITCH studio recordings I knew to exist were the five songs on their THE HEX IS ON ep (although a sixth song, "Blond Alert," had also been recorded), and "Keep the Light On" wasn't one of them. Shawn said the reel contained other WITCH songs as well, but he refused to play them. I asked Shawn if we could make a cassette copy of the reel before he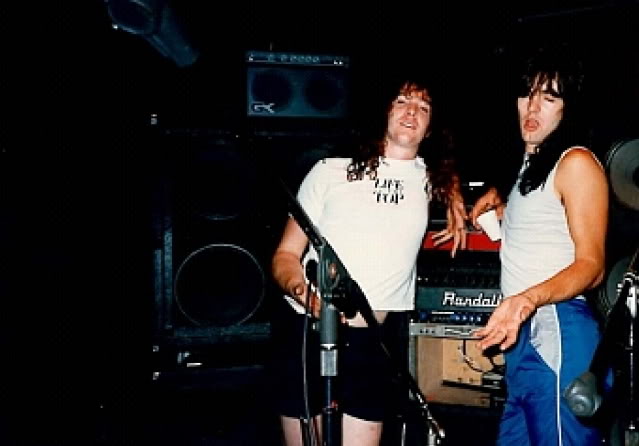 recorded over it, but he said there wasn't any time to do that. Moments later, TYTON began recording over the WITCH tunes and these masters were lost forever. I still do not know if these recordings were from the THE HEX IS ON sessions from 1984 or if they were recorded at a later date, although it is likely they were recorded in early 1985. Jim has confirmed that a tape copy of these demos did indeed exist and was sent by Punky to Brian Slagel at Metal Blade, but because of the fiasco with Metal Blade the previous year Brian told WITCH to "F*** Off." It's possible that Punky still has a copy of these "lost" demo recordings. Update 3/9/08: The mystery deepens. According to Punky he never played on any such demos. A small possibility exists that the band recorded with Joey Capizola on drums earlier in the Summer, but this has yet to be confirmed. And according to DECEASED founder and WITCH fan King Fowley, a store in California called Wild Rags was selling a cassette tape of "WITCH Demos" in late 1985. Although he never heard the tape, the store was offering the tape for sale in its mail-order catalog. The only possible "demos" they could've had would be from this
mystery session. Update 5/26/08: Ronny Too has confirmed that a recording session with Joey Capizola did indeed take place in July 1985. Two songs were recorded at Paramount Studios in Hollywood: "Keep the Light On" and "Too Young For You." Manager Barusch paid for the session and retained possession of the master reel. At one time Ronny did have a cassette copy of these demos, but it has since been lost. The only two people who could still possibly have a cassette copy of these "lost" recordings would be Barusch or drummer Capizola. Above left: Shawn Barusch and Ronny at Paramount during the recording of the demos. (photo courtesy Ronny Too) At right: although he has absolutely no recollection of these sessions, this photo shows Jim at Paramount with Capizola's drum kit behind him. (photo courtesy Ronny Too)